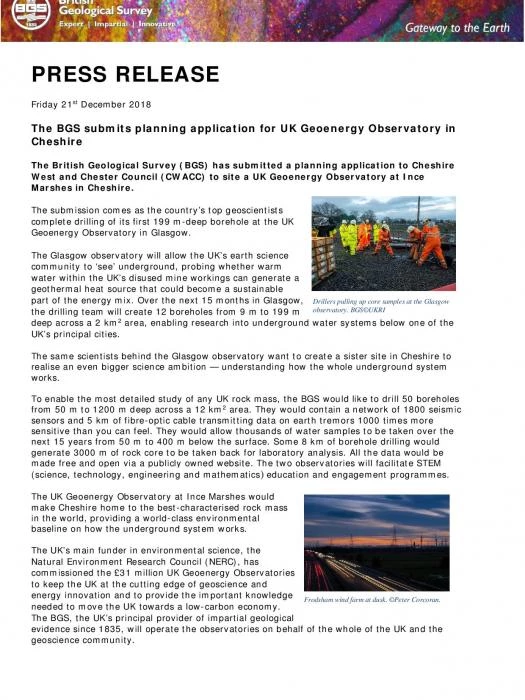 Cheshire planning application submitted
Take part in the statutory consultation on our planning application for the UK Geoenergy Observatory in Cheshire.
The observatory is part of the Natural Environment Research Council (NERC) and the British Geological Survey (BGS) proposal to invest £31m in two UK Geoenergy Observatories. One observatory is proposed for Cheshire, with another approved for Glasgow. Both observatories will enable the UK research community to take forward studies into important scientific questions around the use of the geological environment for heat and energy.
The Cheshire observatory will involve the drilling of some 50 boreholes to various depths, and installing cutting-edge sensors to monitor, sample and assess the site over the coming years. All the details and documents including the comprehensive environmental impact assessment and statement of community involvement are available on the Cheshire West and Cheshire (CWAC) planning portal. To comment on the proposal visit CWAC's planning portal and click on Comments.
https://pa.cheshirewestandchester.gov.uk/online-applications/applicationDetails.do?keyVal=PK1JTGTEKQD00&activeTab=summary
First borehole completed in Glasgow
In December, our Glasgow research site came alive as more than 50 people watched the first UK Geoenergy Observatories borehole being drilled. The Parliamentary Undersecretary of State for Business, Energy and Industrial Strategy (BEIS), Glasgow's City Councillor for low carbon and sustainability and the Chief Executive of Clyde Gateway took part in bringing up some of the first core samples for analysis. The 199-metre-deep borehole is one of 13 that comprise the Glasgow observatory.
Some of your questions and our answers...
Since 2017, we've been out and about across the country discussing the UK Geoenergy Observatories concept and proposals with all sorts of people. We've enjoyed listening to the many views, comments and questions. We've summarised the key themes on our new Frequently Asked Questions web page.
https://www.bgs.ac.uk/research/energy/esios/cheshire/home.html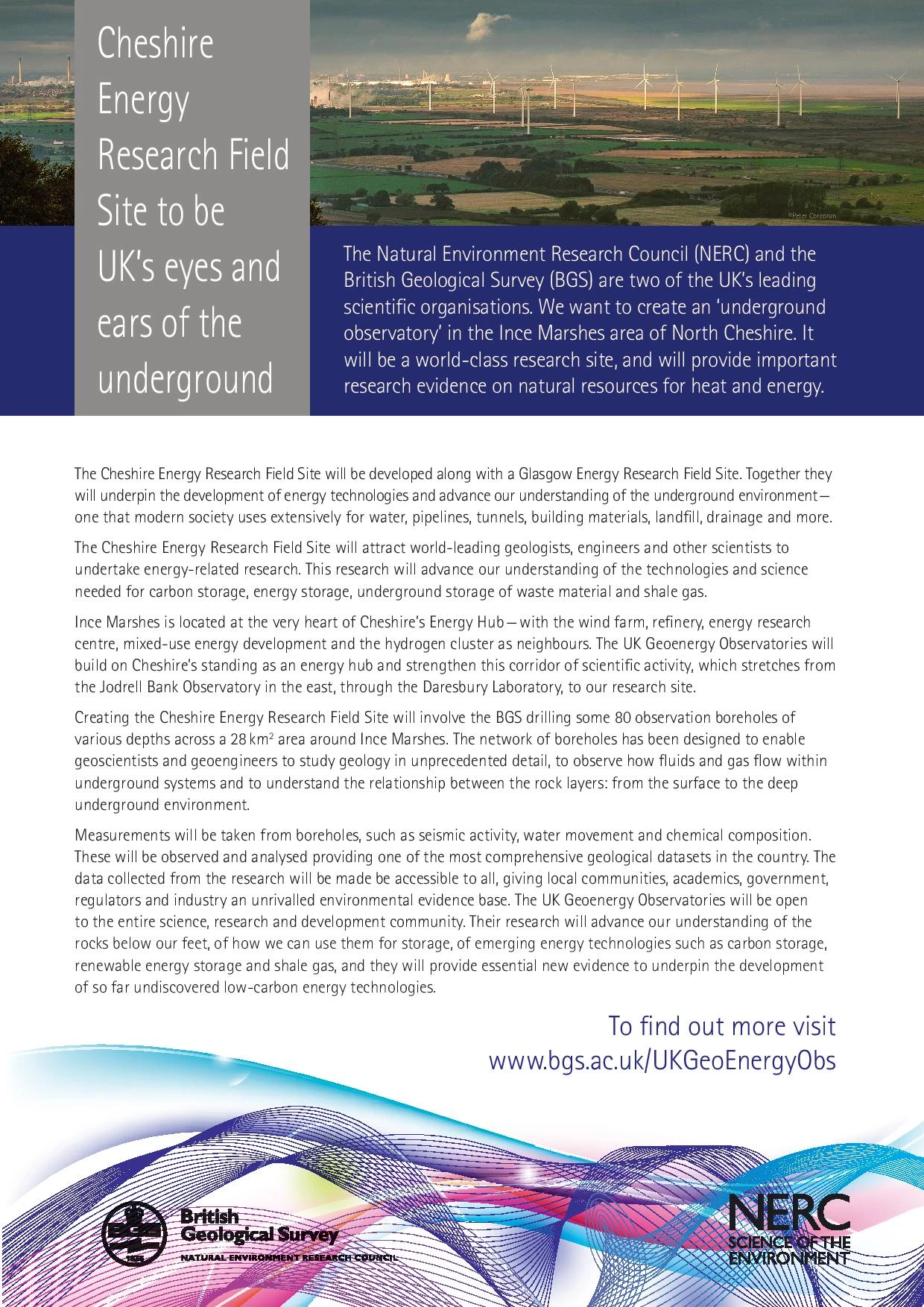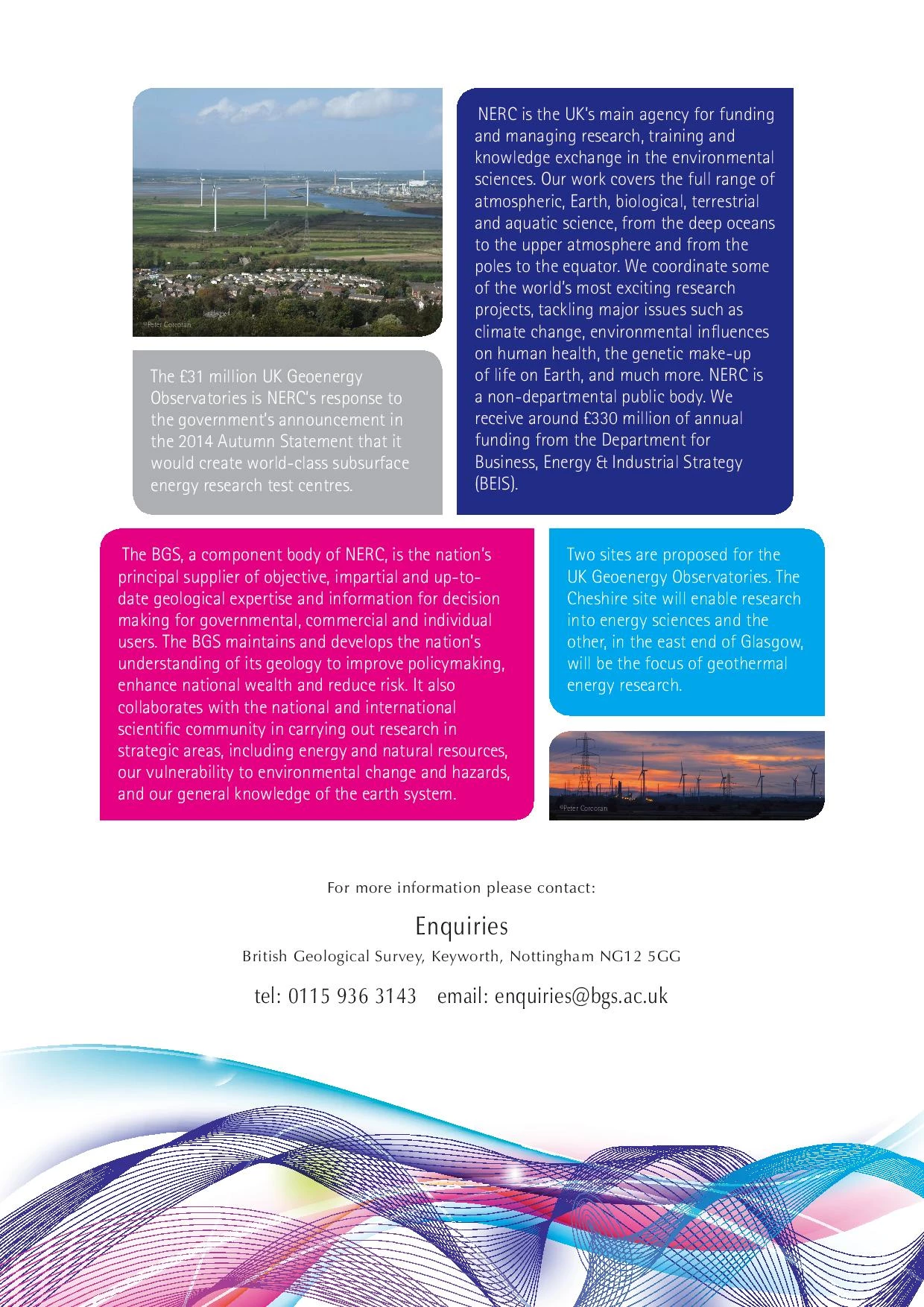 (363494,O,N)