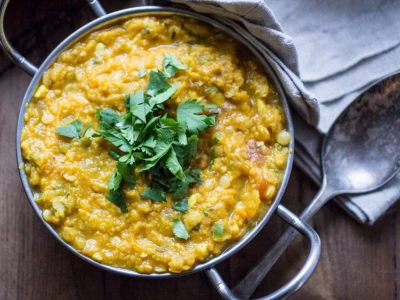 If anyone is trying to do Veganuary, or just, like me, has at least one Vegan day per week, this is a great option. It definitely serves as my Indian "Comfort food" There are a lot of ingredients here, many of which are optional, but the more you put in, the more you get out.
Recent nutritional scientific studies reveal that although the idea of 5 different fruit and veg portions per day is good, seven is more appropriate for optimal gut health, and the gold standard is 30 different plant-based foods per week. Two portions of this delicious curry will give you at least 20 if you don't count the spices.
A point to note: This makes a big batch of Dhal, around 12-15 portions and freezes in portions really well.
I like to make a big pan of rice and freeze complete portions with rice, ready to microwave as a quick and healthy lunch.
Coconut oil 10 mil
Ghee or sunflower oil 5ml
Vegetables
Light olive oil space 5 mil
2 large onions -
1 leek (optional)
2 celery sticks
1 capsicum pepper (optional)
1 -2 large carrots (approx 200 G)
2 cups of Potato (optional)
1 – 2 cups cauliflower (optional)
Spices
Heaped teaspoon chopped or minced ginger root
1 teaspoon lemongrass paste or one lemongrass stalk
1 teaspoon chilli chopped)
2 to 3 cloves garlic
1 heaped teaspoon of ground Cumin
1 teaspoon medium curry powder
1 teaspoon Turmeric (great for inflammation)
1 teaspoon of ground coriander
1/2 teaspoon of cayenne pepper
1/4 teaspoon salt
1 cup of green lentils
1 1/2 cups red lentils
Liquid / Stock
1 tin of tomatoes – (Add a sprinkle of sugar when adding tomatoes)
1 tin Coconut milk (opt)
1 Litre of water
3 vegetable stock cubes
Two cans of mixed beans or one can of kidney beans and one haricot
(if using dried beans, don't forget to soak overnight and prepare them by boiling in salted water before adding to this recipe)
Super healthy version
1 large bunch of chopped fresh spinach (optional but boy is it healthy!)
Finish
about 15 grinds of pepper
One whole bunch of coriander
Basmati Rice (preferably brown)
Method
Roughly chop all of the vegetables to your preference (this can be a hearty, chunky curry or a more uniform one depending on how you chop the vegetables.
Fry vegetables in the oil on medium heat until the onions begin to become translucent. (don't brown the onions, allow them to cook slowly to release their sweetness).
Add the spices list (I played around with different combinations of for ages. You could add Garam masala instead of curry powder if you like it). stir the spices into the veg
Next, add the salt and dry lentils, and stir thoroughly to coat the lentils in all that lovely flavour. (you don't need to soak the lentils)
Add the Stock / LIquid list and the beans and stir well. Place a lid on the pan and simmer for 40 minutes.
Cook brown rice in plenty of salted boiling water for 35-40 mins with the lid on.
As a weird but totally delicious accompaniment, I have a couple of oatcakes spread with coconut oil