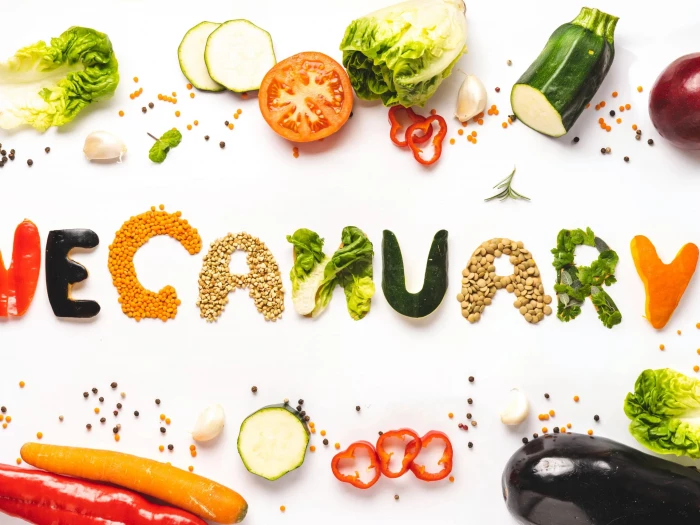 Are you doing Veganuary? If you're not already vegan, it's a great way to detox after all the overindulgence of the Christmas period and the advantages of going for a plant based diet are well documented: A plant based diet generates less CO2 and uses less water in the production of the food, Eating a plant based diet usually leaves you feeling more energised, with a healthier gut, improved heart health from eating less saturated fat and faster gut transit; these are just a few of the top reasons to try Veganuary.
I try to have 2 meat free days every week, but If you're like me, then a whole month without meat or dairy certainly feels daunting initially. Having done a little research for this article, I think it needn't be impossible to come up with some new and interesting meals and meat alternatives. Here are a few ideas to get you started:
Firstly, try not to think of it as missing out – explore new recipes with no meat in them, Mushroom, pea or Butternut squash risottos, vegetable pakoras, vegetable rissoles, veggie burgers, mixed bean stews. Butternut squash makes a fabulous simple curry, (recipe below) Simple pasta dishes (I'll post a couple of recipes later in the week)
Try it... your body will thank you and so will the environment!
Milk:
This was my toughest challenge when I tried a vegan week in 2022.
there are lots of milk substitutes out there on the market (Soya, Almond, Cashew, Coconut drinks) but many just don't hit the mark and anyway, the nut milks and non organic soya products are as bad for the environment as normal cows milk. the production of nuts on the scale needed to produce the nut milks wastes an enormous amount of water and uses a huge amount of energy.
My recommendation is Oat – Milk or as you will see on the cartons "Oat Drink"
I found that the barista versions of oat drinks taste a little nicer on cereal, ironically, oat milk makes a good porridge (that is, if you make it with milk at all – authentic Scottish porridge is made with rolled oats, salt and water. Cream or milk are only added when it is served) and you can make quite a nice cup of coffee with Oat Milk. It makes a good cappuccino or latte. I had to learn to like it in tea.
Best products found so far are Oatly, Alpro and Small Figures (the brand used by Marks and Spencers in their cafe's). I go for the organic versions as I know the oats aren't sprayed with weedkillers.
To get the calcium not provided by Oat milk, eating a small handful of cashew nuts is sufficient for most adults.
If you really can't do without, but you want to care for the environment, then Raw milk, or Organic milk is best.
Oat Cream is a delicious cream alternative too – makes mash really creamy, fabulous in sauces.
sweetened Aquafaba (the juice found in a tin of legumes, beans or chickpeas) can be whipped to male a soft meringue – like dessert alternative.
Swedish Glace (Soya based ice cream) is one of the most delicious ice creams I've ever tasted.
Eggs:
Instead of an omelette, I made dairy free pancakes – using plain or self raising flour with a pinch of salt and simply water or half and half water and oat milk makes a perfectly good pancake mix. don't skimp on the spray or il for the pan and ladle on your favourite vegan topping (which for me is Orange juice and a sprinkle of Demerara Sugar (a bit of a departure from traditional lemon and sugar but don't knock it til you've tried it!) Maple syrup is also nice on these pancakes. to make them a little more fluffy, use self raising flour. Mashed banana can also be added to a pancake mix in place of an egg (best if you are using a wand blender.
Other Egg Substitutes: Aquafaba (the juice found in a tin of legumes, beans or chickpeas) Apple sauce,
Check out this link for a comprehensive range of egg substitutes and when and how to use them dependent on the recipe you are making:
Meat:
This was the easiest part for me. there are so many great meat alternatives and not all are Soya based.
We love Quorn southern fried bites in a pitta or wrap in place of chicken. Quorn chicken pieces make a really good meat alternative in a curry too.
With mince – based dishes, you just need tot treat the plant based mince differently to how you would treat meat. Often, you cook the plant based mince separately, browning it a little in oil and maybe adding a meaty flavour by adding some soaked porcini mushrooms to your recipe (tastes very similar to beef stock). Personally, I didn't think much to the THIS isn't chicken brand, but I'm a big fan of the vegan butcher chicken alternative., however, we all have different tastes so check out these links for some of the best rated meat alternatives. Vegan Kind or the Independent top 10 Vegan meat alternatives
Cheese:
I've tried a few vegan cheeses and they are all a little different but very tasty nonetheless. I love all the Violife alternatives, Sheese is soya free too (I'm intolerant to soya, which makes the vegan challenge even tougher!) here are a couple of links to tried and tested vegan cheese alternatives BBC Good food Cheese alternatives. Independent Vegan cheese review
Butternut Squash curry (roasted)
Half a butternut squash, peeled and Chopped into small cubes
1 red onion chopped fairly fine
2 cloves of garlic crushed
Handful of pine kernels and / or pumpkin seeds (good for protein)
Light olive oil and a dash of toasted sesame oil
Salt, pepper and at least 2 teaspoons of madras or medium curry powder.
Mix all the ingredients in a bowl, being quite generous with the oil, pour into a roasting tin and roast on 170 degrees (fan) for around 30-40 minutes.
Serve with nutty brown rice or a rice flavoured with vegetable stock.
This is a dry curry so its important not to skimp on the oil. it also makes a nice accompaniment to a bean curry, Bombay potatoes or dhal., and allowed to cool down, it makes a tasty salad on a mixed salad platter with bean salads and slaws.
You could make a risotto or tasty warming soup with the other half of the butternut squash.
Above all – enjoy your culinary adventure!