The other day I was going to cut across the Playing Fields when I noticed a group of about a dozen children on the play equipment near the Scout hut. They were aged about 5 or 6 and were having a great time. What made me look twice was that they were all wearing white baseball caps!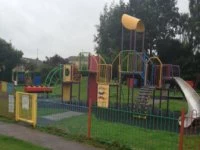 I am a real nosey parker so I stopped to find out who they were. I was told by one of the young ladies with them that they were from a private nursery in Hartford no less, and came to Tarvin because the play area was so nice. The children certainly seemed to agree with them. The nursery tended to make the trip in school holidays as part of a play scheme.
Did I have a 'Tarvin playground for Tarvin children' moment?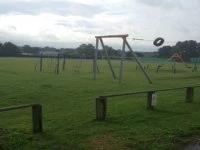 Well, perhaps very fleetingly. In the end I thought it was great that we had such good facilities that they attracted custom from further away, and certainly there were no other children playing there at the time.
The Play area, like everything on the playing field, is the responsibility of the Parish Council. The addition of the new play equipment was funded by grants from WREN (stands for Waste Recycling Environmental Limited) and Cheshire West and Chester Council and it has greatly added to the pleasure of local youngsters. Special mention should go to Councillor Pet Twigg who was the leading light in applying for the grant and getting the equipment installed. Recently the Parish Council improved the drainage in the area to deal with the soggy ground that used to be very troublesome at times.
So, if you see a group of youngsters in white baseball caps next time you are crossing the Playing Field, perhaps you might say 'welcome'