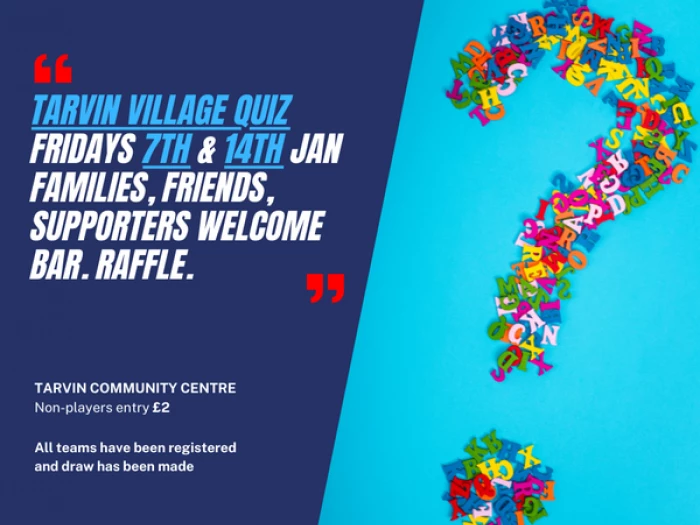 The Community Centre is delighted to be able to welcome the return of the ever-popular Village Quiz on Friday January 7th and Friday January 14th. The Competition will start in earnest at 7.30pm with the doors and bar open from 7.00pm.
A very commendable 16 teams have entered this year, so there should be plenty of support for those who take the challenge to mount the stage and expose their brilliance, or otherwise, to the scrutiny of the audience.
The contests will be as follows:
7.30pm The Show Must Go On V Tarvin Tennis Club
7.50pm St Andrew's Church V Tarvin Meeting Point
8,10 pm Chimp's Tea Party V Back Stage Shenanigans
8.30pm Tarvin Bowling Club V The Railway
INTERVAL and RAFFLE
9.10pm Nervous Tics V Tarvin Parish Council
9.30pm The Crescent V Two Fields
9.50pm Lewis Logic V George Heath Foundation
10.10pm Tarvin Methodist Church V The Red Lion
There will be 8 winners who go forward to the second week and the draw will be made at the end on the evening.
Please do come along and support your team, or just come along for the fun of it. The cost to spectators is £2 per head while team members have free entry. If you have any questions please contact the Secretary on 07803 608119