No I am not talking about the price of chips at the Tarvin Fish & chip shop. More what to do when a crisis occurs. Tarvinonline doesn't actually have a crisis yet but all I read about in the press and hear on the news is the explosion of contingency plans.
Yes you guessed right it's that referendum on independence again. So the Tarvin webteam thought it best if we also had a contingency plan- ready to put in place however the vote turned out.
Why?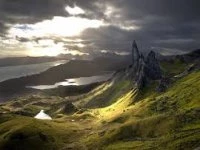 Well one of the webteam decided now was just the right time to take a 3 week holiday in Scotland- Isle of Skye and who knows where else! Past experience has taught me that in some places and at certain times being English in Scotland can get somewhat difficult even in peace time.
Our big concern is that he may be apprehended and even worse a reward demanded for his release. The bridge from Skye may be barricaded off to stop an exodus. Along with HMG we would not negotiate with the "YES" voters in such circumstances, despite the extra workload on the editorial team. If as seems likely Government policy changes then perhaps we would set up a raffle for his return as we have no money either!
The FO said they would help, despite no knowledge of where Tarvin was but would have trouble identifying the man in question. We advised that the last time he was in Scotland was for the stone skimming championships and he bought an orange tee shirt and was known as an "Old Tosser" (click here to see the full story)
Lets hope he returns safe and sound to pen his next holiday story!
(Ed. we have to counter- balance the serious side at times)