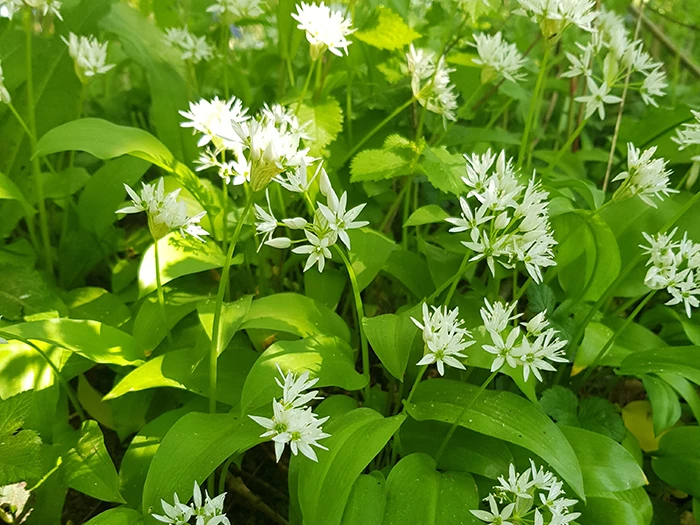 Wild Garlic (Allium Ursinium)is in abundance this year and in season now. if you're out for a walk in ancient woodland and you can identify this broad leafed garlicky plant, it is a real treat. When we go down to Cornwall at this time of year, we sometimes eat at a little Bistro on the Trellowarren estate on the lizard. We were treated, one lunch time to a delicious, bright green wild garlic soup decorated with those pretty little white flowers. Later that week, whilst out walking near the Helford estuary, we came across a huge swathe of wild garlic, and we wondered if we could recreate this seasonal and delicious soup.
My Mother-in-Law has a real talent when it comes to soup so I trusted her to come up with the goods. we had an idea of the base we would use but when it came to how much wild garlic to pick, we weren't sure. "How much do you think we'll need, Chris?" I said, standing with a bunch of Wild garlic leaves in my grasp.
"Oh I should think a hatful will do," she replied. So, we loosely filled my woollen beanie with garlic leaves and a few flowers and put it together with her usual soup base. hence in this recipe you will see the measure a 'hat-ful' of garlic leaves.
An ancient plant with many names
Wild garlic has many names, the Latin name shows of course that it is a member of the allium or onion family and the second part is a reference to the common and ancient names for the plant of' Bear leek' or 'bear's garlic' as it is a treat for wild bears when they wake from hibernation. Wild boar also like to eat this abundant plant and it is sometimes known as hog's garlic or boars garlic. It is often known as Ransoms, others know it as buckram, wood garlic or broad-leaved garlic.
The presence of this oft-foraged plant suggests the woodland you are in is probably ancient as it takes a long time to establish. Hardly surprising, then, that our own Tarvin Woodlands does not have any of this super-food plant. Perhaps we could plant some and encourage it to grow?
Health benefits of Wild Garlic
Whatever name you call it, it really is a super-food, rich in antioxidants: It neutralises the free-radical process which causes cell mutation and oxidative stress, thus reducing risk of cancer, heart disease and arthritis.
Garlic and other members of the allium family are known to reduce blood pressure which reduces risk of heart problems and strokes. Wild garlic can also reduce bad cholesterol and triglycerides in the bloodstream.
Wild Garlic contains anti-fungal and antibacterial compounds which can help balance the bacterial gut flora helping to calm an upset stomach bloating, constipation and other stomach issues. Eaten raw and fresh, it has a strong antibacterial effect and has been used as aprophylaxis against serious illnesses, including cancer. It has a beneficial effect on the immune system and is used in many countries to treat skin irritations such as eczema and dermatitis when used as a bath additive. Researching the medicinal used of this plant I found no less than 100 possible uses. It truly is a super food and not to be missed.
Eating and Cooking with Wild Garlic
Culinary uses are varied. it can be eaten raw or cooked. It can be used in salads, stews, soups and as a garlicky replacement for spinach. The flowers have a distinctly peppery taste. I have heard that chopped up finely, the leaves also make a delicious pesto or garlic butter.
Here's my Mother in Law's recipe for the soup.
Wild Garlic Soup
Ingredients:
1 Medium leek
1 Medium onion
1 stick of celery
1 palm sized potato, peeled (optional to thicken)
1 or 2 cloves garlic
1 hatful of garlic leaves plus a few stalks of garlic flowers to garnish
Creme fraiche (or heavy cream)
Method:
Wash the garlic leaves in cold water and chop roughly.
Cut the Leek, celery onion and potato into roughy equal pieces (about half an inch long).
Place all vegetables except garlic leaves in a large saucepan with about a dessert spoon of olive or sunflower oil and soften on medium heat for 5 mins.
Pour 1Litre of boiled water and 1 1/2 teaspoons of Bouillon, or 2 vegetable stock cubes into the pan
Add about 6 pepper grinds and a quarter teaspoon of salt, put the lid on and simmer for 15 minutes
Add the chopped garlic leaves and simmer for a further 15 minutes
switch off and leave for 10- 15 mins. Blitz with a liquidiser or hand blender.
Add salt and pepper to taste.
Serve with a dollop of creme fraiche and a sprig of garlic flowers. plus your favourite bread.
Enjoy!