The George and Dragon and The Red Lion, have agreed to go head-to-head in the first "Battle of the Pubs" that will eventually lead to one of them winning the Fantasy Football World Cup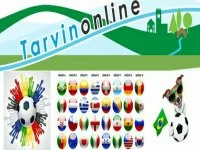 Devised and promoted by Tarvinonline.org this competition will pitch pub regulars against one another in the battle to help their pub win, and to make a few bob at the same time!
Enter now at either the George and Dragon or The Red Lion by paying £5.00 per entry and entering your name and contact details on the entry forms displayed in each pub
Each pub will be allocated 16 teams composed of at least 8 of the top 16 seeds for the World Cup which will form the fantasy league for each pub. The pub with the most points at the end of the competition will win the Fantasy Football World Cup.
Teams will be drawn and allocated to each entry through a complicated system using secure boxes that include the name of the teams, and the 32 entry numbers that appear on the entry form.
By entering individuals will have 3 opportunities to win a cash prize:
1. The person(s) whose team wins the Brazilian World Cup
2. The person(s) whose team is runner-up in the Brazilian World Cup
3. The person(s) whose team wins the Fantasy World Cup League
Full details of the Rules available to download here
The Draw will take place at 8.00pm in the Red Lion on Wednesday 11th June. No entries accepted after that time
More news on an almost daily interval to follow.......