Following on from Tarporley High School's outstanding A Level results last week, Tarporley's Year 11 students have once again achieved excellent grades.
This year marks the first year that students have completed the new GCSE qualifications in nearly all subjects, where the grading system spans from grade 9 (the highest grade) to grade 1 (the lowest).
With the newly designed grade 9, which recognises the very highest performing pupils, the outstanding school saw nearly 20% of the cohort achieve the very highest of grades (Grade 8 and Grade 9) which is equivalent to grade A* and A** respectively.
(Ed: click on photos to enlarge)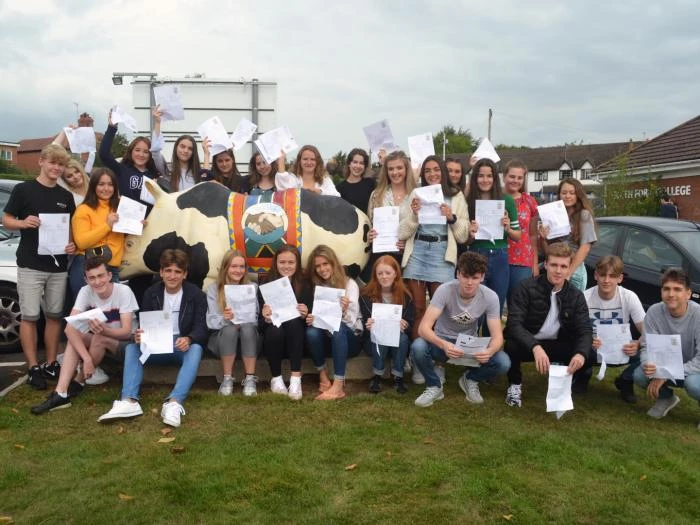 Across all grades, a third were impressively at grade 7 or higher (equivalent to an A grade) and over 80% were above the new grade 4 benchmark (equivalent to a grade C.)
Head Teacher Jason Lowe said "My congratulations go out to all our students who have shown such exceptional commitment to their studies. They have been an outstanding year group who have made many valuable contributions to the school. I wish them all the best for the future and look forward to welcoming many of them into our Sixth Form.
I would like to thank the families of our students for all the support they have given over the last five years. My thanks also go to our passionate and dedicated staff who have worked extremely hard to enable all of our students to achieve."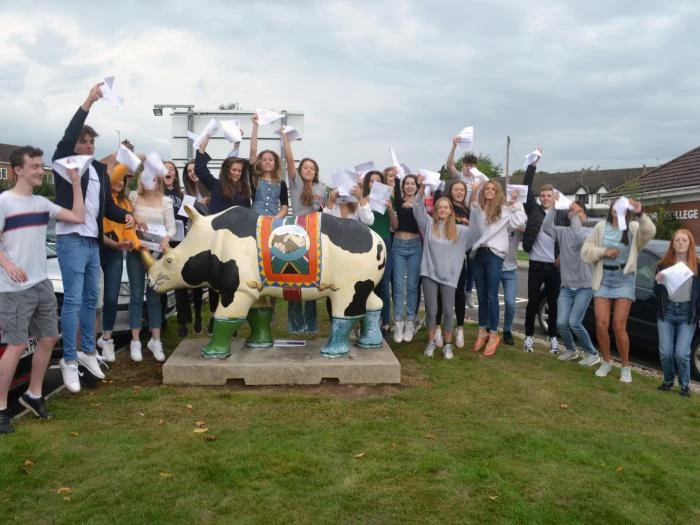 Special congratulations go to:
Katy Adkins 9 grade 9s and 2 grade 8s
Jake Bailey-Saltmarsh 3 grade 9s, 1 Distinction*, 1 A*, 1 grade 8, 5 grade 7s and 1 grade C
Daniel Bilsborrow 4 grade 9s, 2A*s, 3 grade 8s and 1 grade 7
Catrin Blockley 1 grade 9, 4 grade 8s, 4 grade 7s and 1 grade 6
Jasmin Carr 4 grade 8s, 1 grade A, 2 grade 7s and 1 grade 6
Ella Casson 2 grade 9s, 1A*, 4 grade 8s and 2 grade 7s
Amelia Crofts 6 grade 9s, 1A*, 2 grade 8s, 1 grade 7 and 1 grade 6
Harry Davies 2 grade 9s, 1 A*, 4 grade 8s, 1 grade 7 and 1 grade 5
Rose Diggle 4 grade 8s, 1 A*, 3 grade 7s and 1 grade 6
Grace Dobson 5 grade 9s, 1 grade 8, 1 grade A, 1 grade 7, 2 grade 6s and 1 grade 5
Olivia Franks 3 grade 9s, 4 grade 8s, 1 grade 6 and 2 grade 5s
Abi Goodier 9 grade 9s, 1 grade 8 and 1 grade 6
Michael Hallsted 2 grade 9s, 4 grade 8s, 1 grade A, 2 grade 7s and 1 grade 6
Harry Kift 5 grade 9s, 1A*, 2 grade 8s and 2 grade 7s
Tara Moseley 1 grade 9, 4 grade 8s, 4 grade 7s and 1 grade A
Ella Nixon-Brummitt 4 grade 9s, 2 grade 8s, 2 grade 7s, 2 grade 6s
Emily Pape 9 grade 9s, 2 A*s and 2 grade As
Hannah Wheelan 2 grade 9s, 4 grade 8s, 1 grade A and 2 grade 7s
Ryan Wheeler 4 grade 9s, 1A*, 2 grade 8s and 2 grade 7s
Laura Youngs 3 grade 9s, 3A*s, 4 grade 8s and 1 grade 7
Tarporley Sixth Form is open to all students with suitable GCSE grades. There are some places available for the new academic year, including students who have not previously attended the school. If you would like any further information please contact via email: teverton@tarporleyhigh.co.uk