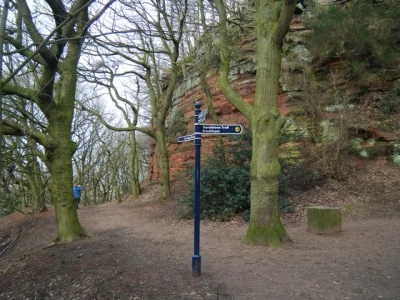 40th Birthday Party
Everyone local has heard of it, some have walked on sections if it, and the intrepid have completed it, but how many of us know that the Sandstone Trail is celebrating its 40th birthday this year! To acknowledge this local amenity achievement, the Sandstone Ridge Trust has organised a three day event which starts on the Thursday 25th September in Whitchurch and culminates in Delamere on Saturday 27th September.
The trust's objectives are to celebrate the trail and its surrounding landscape, highlight the re-introduction of the White-faced Darter dragonfly to Delamere and promote their new Rock and Springs heritage project.
On each day the members of the public are invited to join the planned walks. On the Saturday two walks are planned, one starting at Beeston and one in Frodsham but both ending up at Delamere Old Pale Car Park at around 2.00pm. At 2.30pm there will be a ceremonial handover of a model dragonfly that has been carried all the way from Whitchurch and then an opportunity to learn about, and possibly joining in, the Rock and Springs Project, which involves researching quarries and wells and recording them for posterity
If walking is not your thing, then starting at 12.00 there is a range of family friendly activities in the Delamere Old Pale Car park. These will include a mock archaeological dig to discover ancient artifacts, dragonfly and badge craft making sessions, and a workshop involving wood carving and casting of replica bronze age axes, daggers, and swords.
For more details of the events on 25th and 26th September go to http://thesandstoneridgetrust.co.uk/news