We received an email from one of our reader's highlighting a problem with the new arrangements for buses between Crewe and Chester. We will now revert to running buses along this route every 30 minutes, which is obviously good for the occasional traveller like me as in essence its no change.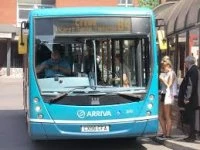 For those regular travellers who take advantage of a season ticket, for example those going to work or in the future school, the new system has a major drawback when you think about it.
Season tickets are issued by one company and the Crewe- Chester service will be operated by 2 companies!. So if you miss the bus run by your chosen company with whom you have taken the season ticket then you will have to wait an hour for your next bus or pay-up if you cannot wait. This is often the situation on some railway journeys where different train operating companies run on the same tracks.
Sometimes having multiple service providers can cause what the politician's call "unintended consequences". To the user affected its potentially a real pain.
If the thinking was joined up then I am sure there is the technology around for each bus company to accept any ticket and at the end of the week use the scanned information to "balance out" the cross travel between the various companies.
Come on Arriva – sort this mess out.