Christmas Barra Brith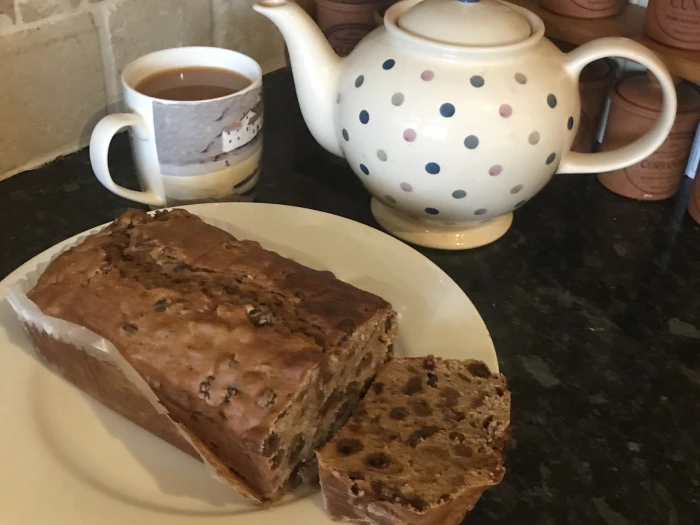 Christmas is a wonderful time for food, isn't it...? However, for those of us who are watching their weight, or who can't have too much sugar (like me) it can be a total minefield or just downright miserable!
This is my Mother's recipe for Barra Brith, but at Christmas time, I add some Christmas Spices as a nod to the season. On Christmas Day, I cut a slice and warm it for 20 seconds in the microwave, then either pour over cream, a little custard or drop a small blob of ice cream on it... It makes a nice alternative to Christmas pudding. It's less rich too.
Barra Brith (Tea Bread) is a great snack for dieters as it doesn't have any fat in it at all and many people bake it without sugar as the fruit provides enough sweetness. I remember my mum making this every week if she was on a diet... then she would spread an ounce of butter on it! In actual fact, there's no need to put butter on it at all.
Barra Brith is known as an accompaniment for tea, but adding apricots makes it great to eat with a cup of coffee too.
So, here is my Mum's recipe for low-fat, low-sugar Barra Brith with a Christmassy twist from me!
Allow 2 days for this as the fruit needs to be allowed to soak overnight.
Ingredients:
250g dried fruit (Raisins, Apricots, Sultanas, currants or even dried cranberries)
250g self-raising Flour
1 egg
pinch of salt
1 pint of strong tea (Normal Black tea or red bush)
50 g Dark brown sugar (this is optional!!)
And for the Christmas twist:
I added 2 teaspoons mixed Spice and
zest and half the juice of 1 orange and 1 lemon
Method:
Day 1
1 Wait for the Tea to cool to lukewarm and pour over the fruit.
2 Add the mixed spice, juice and zest.
3 Cover the bowl and leave overnight to soak up the tea.
Day 2
1 Preheat the oven to Gas mark 4 or 160degrees (fan oven)
2 Grease and line a 1lb loaf tin. (a 1lb cake tin will do if you don't have a loaf tin).
3 Sieve the flour, add the pinch of salt, all the tea and soaked fruit the fruit and the egg.
4 Mix the ingredients well (do not beat)
5 Pour the mixture into the cake/loaf tin and place in the oven for 70-90 mins.
6 If the top of the cake is getting dark and cracking, this is what you want.
7 Test the cake is ready by removing from the oven, tap on the bottom of the loaf tin. If it sounds hollow, it's ready, if it sounds dull, it isn't. The 2nd test is to get a metal skewer or very sharp knife and prod it into the cake... if it comes out clean, the cake is ready, if it has soggy cake mixture on it, put it back for 10-15 mins.
Allowing the cake to cool upside down on a wire tray for 20 mins can help make little lines from the tray in the top so it's easier to portion later.
The loaf can be kept for about 4 days in an airtight box in a cupboard (7-10 days in the refrigerator).
This cake can be frozen for a later date.