At the Parish Council meeting on Monday it was reported that Cheshire West and Chester Council had approved improvement works on the A51 to be carried out next year.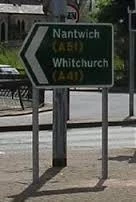 The A51 improvement scheme had been discussed by Cheshire West and Chester Council Cabinet before going to full Council. Councillor Lush had spoken at the Cabinet meeting on behalf of Tarvin and made the following points:
o the Parish Council supports the proposed scheme but it should be only the first step in addressing the problems on the road between the M6 and the A55. Developments already under way or planned (including HS2 to Crewe) will only make matters worse. A comprehensive study of the whole route should be commissioned so that a robust sustainable solution can be identified and put in place
o the scheme includes extra signs and road markings on the A51 (northbound) approach to Tarvin roundabout, telling drivers to use both lanes on the Chester side of the roundabout. There is no similar proposal for the A54 (westbound) approach. Is this an oversight?
o the report on the scheme states that while the work is under way there will be "a temporary increase in route uncertainty" i.e. disruption and delays. It is hoped that when work starts in 2020 there will be no works planned on the alternative routes (residents will remember that when the A51 between the Tarvin roundabout and Stamford Bridge was resurfaced a few years ago there was also work on the road between Tarvin and Waverton)
o the key points of the scheme have not been clearly communicated with residents.
For information, the £7m investment will provide:
additional signs (as described above)
signal and lane marking changes at Stamford Bridge to give eastbound traffic two lanes straight ahead
an extra westbound lane at Stamford Bridge by widening the carriageway to the south, with a long merge for westbound traffic coming away from the junction
widening of the bridge at Stamford Bridge with a kerbed island between the two carriageways
changes to the Hare Lane/Littleton Lane junction