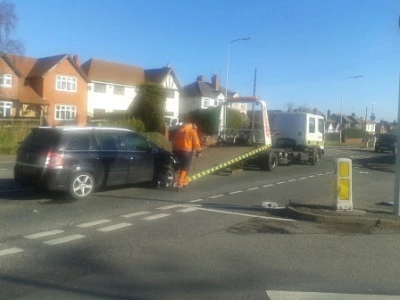 Commuters faced a delay on Monday morning when an accident occurred at the A54 junction with the High Street near the New Village Restaurant. Only one car was involved and fortunately no-one was injured. The driver, a local man, appeared to have caught the lamp post a glancing blow when turning right and caused considerable damage to the off-side front of the car.
The Police were on hand quickly to manage the traffic and to ensure that disruption was kept to a minimum. The car was removed by 9.00am and traffic got back to normal.
There is a great deal of traffic on the A54, especially at rush hours and it says something about the good standard of driving by most people that there are so few accidents on this stretch of road. But a momentary lapse in concentration can cause big problems, not to mention large repair bills.