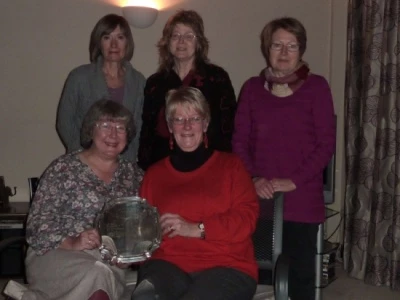 Despite being the current holders of the Village Quiz title, members of Tarvin Meeting Pointare not known for their enthusiasm for quizzes, so it was a degree of surprise that they found themselves settling down on Thursday night to test their grey matter.
It was of course a very relaxed and fun evening, but in a sharply fought contest, Alison, Mary and Jane emerged the winners by one point!
The quiz was devised and presented by Lorna Stott who has recently been the regular quiz-mistress at Helsby Golf Club, where her wonderfully quirky and eclectic offerings have delighted members and increased bar profits.
It is relatively easy to do a quiz based solely on general knowledge but much harder to do one that contains enough variety to encourage all to join in and to make sure that all kinds of knowledge can be accessed to get points. Always aware of her audience, Lorna tries to develop themes for each group – where else would you get questions on Women, Meetings and Points!
Certainly the hardest round was trying to identify euro coins and allocate them to the correct country – some inspired guesswork here. But the funniest round was when the combined IQs of the group were struggling with the eternal Christmas question – which mince pies come from M and S, the Co-op or Aldi?
Possibly encouraged by the evening Tarvin Meeting Point decided that they would enter a team in the village quiz to defend their title. They are just hoping there will be a round on Euros, and of course, mince pies!
The next meeting is on November 28th when the group will look at the many aspects of fire.