At the April meeting of Ashton Heyes and Tarvin Flower Club we had a variation on "Alice in Wonderland" by depiction in flowers.
Ros Anwyl from the Shrewsbury area entertained a good audience with her ideas.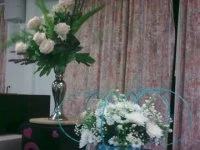 The 1st design, Inspired by the pocket watch and the rabbit hole, contained Spring flowers.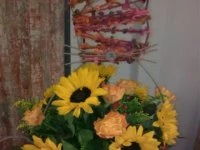 Sunflowers were used for the Cheshire Cat and looked very jolly in a basket with a cat's face. Petals of a rose called "Sweetness" looked as if they were painted in red and white and were used to great effect to give the idea of the gardeners who were ordered to paint the flowers. Members were envious of the huge cup and saucer used for the Tea Party design (I have seen these since in 2 Garden centres at a reasonable price so they are easily obtained ) The final design was the Queen's fan- an elegant arrangement containing some beautiful roses.
Lewis Carroll made up the story whilst rowing on the Isis with 3 young children of a friend but it was 3 years before publication and that was at the instigation of Alice, one of those children.
The May meeting is "Celebrations" with well-known demonstrator Wendy Davies. Visitors are very welcome.
Thanks to June Pughe for the photographs.