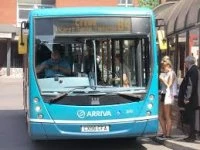 Today as I walked through Tarvin High Street just gone 0930 I saw the usual queue of "people of a certain age" waiting for the 84 bus to Chester. No sooner had it appeared around the corner than the 82 from Northwich turned up and parked behind the 84. No doubt this sequence was to be repeated all the way into Chester.
I wondered which bus was early and which bus might have been delayed so on my return walk home I glanced at the timetable at the bus stop.
Yes you might well have guessed correctly that the 2 services were scheduled to arrive in Tarvin within 3 minutes of each other.
Now for a rural service , which is limited, this seems ludicrous. Doesn't seem to happen on the trains unless like the Tube they keep turning up every 3 minutes.
I raised the question at the Parish Council meeting tonight to see if they could make representations and secure a better timing for our services as they are all done by Arriva.
Evidently neither our PC nor even the mighty CW&C can require such an obvious arrangement.
The explanation offered by our Borough Councillor for the timings was that this resulted from re-scheduling the 82 service earlier in the morning so that St John Dean's pupils arrived before school started!
I am glad they do not organise brewery trips! Why not email Arriva and have a moan.