We had a very friendly new demonstrator this month who was happy to share her flowers with Tarvinonline.
Anne Houghton from the Wirral chose Pot Luck as her subject. She told us how pots and containers inspired her with a design. Most of her finds were from charity shops in various parts of the country. Whilst arranging she explained that about 4 years ago she was a normal person but now she has sheds and garages containing all the odds and ends that a flower arranger cannot bear to part with!
Her interest started when she was handed a flyer advertising free flower classes locally- she decided to go along. When they finished she enrolled for fee paying classes and went on to becoming a florist and since 2015 a demonstrator. She works for 1 day a week in a florist's shop so her flowers were beautiful.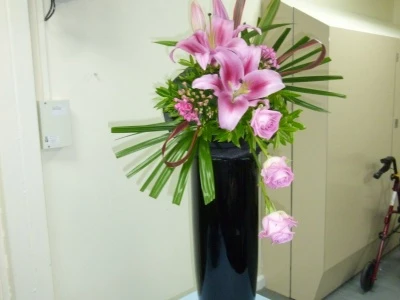 She produced 6 designs. Her first one used a large glossy black vase with a bowl attached on top which was matt black. Into it she put a simple but attractive design using 3 aqua roses, Deep pink lilies and a small multi-headed flower called bouvardia.
For design 2 she used a blue glass bowl acquired from Northop college from where she also got great inspiration. Her colour choice was blue and pale yellow.
The 3rd arrangement which I was lucky to win in the raffle was stunning but not fussy in any way. The container was textured metal in a bronze and there were calla lilies and chrysanthemums with large leaves. (photo below)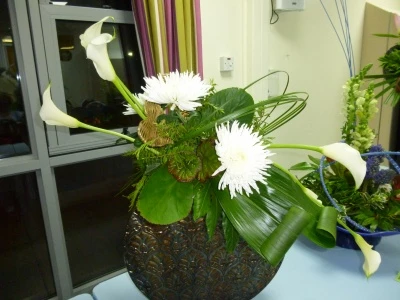 Anne showed adaptability in design 4 as the flowers ordered didn't come and so last minute changes were needed. The "pot" was green stoneware and into it went large yellow gerbera and yellow roses. Stunning colours.
For the 5th design we saw a continental parallel in shades of pink and purple. Anne used very deep pink gerbera, a pale pink rose named Heidi, lilac lysianthus and purple liatris.
The final design was in a large garden urn. Anne is crazy about the Downton Abbey series so this was her representation. She chose white for all the flowers and told us some of the background to the programme whilst arranging.
Thank you Anne for an entertaining evening. Our next meeting is on 11th May when Carole McKenna, a florist from Menai, will entertain us with "Florabundance".
Ed: Click on the photographs to see an enlarged version.