We couldn't have asked for a better evening for our annual garden visit.
June Pughe found a beautiful garden in Manley for us to see!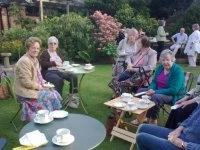 We were made very welcome and shown around the most attractive garden which has evolved over 40 years with many changes along the way. After looking enviously at hostas with no slug damage and seeing very healthy looking hens we enjoyed cakes made from their eggs with a cup of tea.
Despite 22 visitors the garden was very tranquil and we thoroughly enjoyed our visit.
Many thanks to our host and hostess.
June Pughe took the photographs.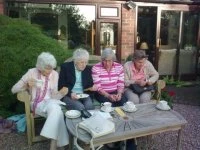 Our July 9th meeting will be a short A.G.M. followed at approximately 8pm by a talk on Wade miniatures. This should be of interest to many so do come and join us. Visitor fee is £5 which includes tea/coffee and biscuits