Dorothy Monks, a Cheshire area demonstrator produced 5 very different and eye-catching designs for the flower club January meeting. Her title was "Inspiration is all around us" There was a good turn out on a very cold and damp evening.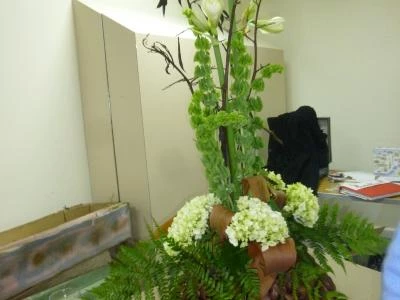 Dorothy must have a lovely garden and was able to provide all the foliage and even some blossom for her designs. In her 1st design with 2 parts the only flowers she bought were some white tulips.
The colour scheme for design 2 (no photo) was unusual with deep pink roses, lime green choysia,dark purple alstromeria and purple orchids. She finished the 2 designs with loops of lime green wire.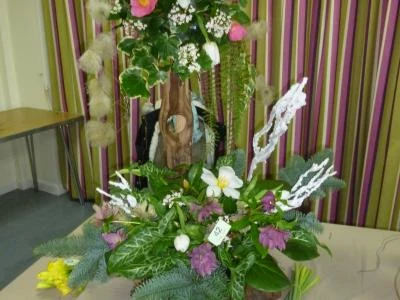 Dried phormium flowers from last summer were the inspiration for a very large design with Bells of Ireland, white amaryllis and greeny white hydrangeas.
Whilst doing design 4 (no photo) Dorothy showed us ideas for manipulating phormium and aspidistra leaves. This was a striking arrangement of red anthuriums and 2 red peppers with the leaves.
Finally Dorothy was inspired by how flowers grow and produced 2 continental parallel designs of spring flowers in subtle colours.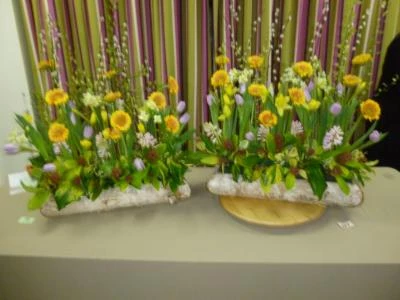 Tea/ coffee and biscuits followed with a chance to chat before we left to go and de-ice our cars but we all felt that Spring can't be too far away.
The February meeting is on the 14th when we welcome Margaret Bourne from Long Acre garden in Bunbury where we visited in June2017. Visitors are very welcome and the start time is 7-30pm.