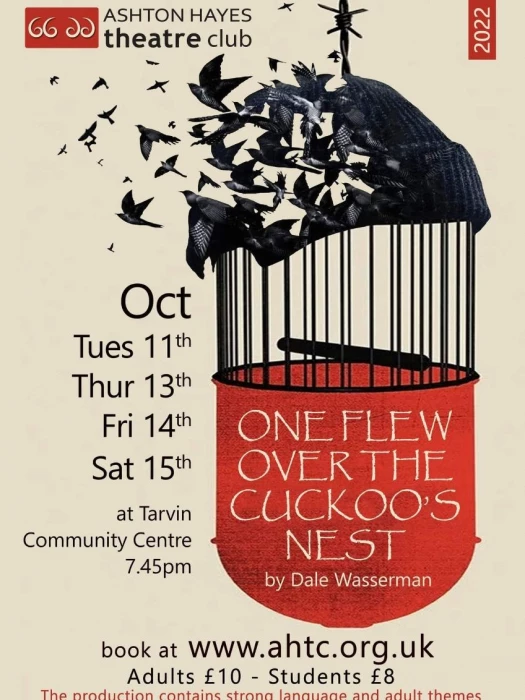 This stage adaptation of Ken Kesey's celebrated novel, "One Flew Over the Cuckoo's Nest,explores he brutality of life in a mental institution with humour, candor, and unforgettable characters.
After being convicted of a petty crime, a charming, rebellious rogue named McMurphy contrives to serve his short sentence in an airy mental institution rather than in a prison. This, he soon learns, was a mistake. He immediately clashes with the authoritarian head nurse, a fierce martinet named Nurse Ratched. Despite Ratched's strict reign, McMurphy quickly takes over the yard, leading others out of introversion, staging a revolt so that they can see the World Series on television, and arranging a rollicking midnight party with liquor and women. But McMurphy's brash insubordination has its consequences; Ratched ultimately triumphs by subjecting McMurphy to a frontal lobotomy.
One Flew Over the Cuckoo's Nest premiered on Broadway at the Cort Theatre on November 13, 1963. Directed by Alex Segal, the production starred Kirk Douglas and featured Ed Ames, William Daniels, Joan Tetzel and Gene Wilder.
The play contains strong language and adult themes. We suggest that is suitable for those aged 15 and over.
Doors open at 19:15, from which time, you can enjoy a drink in the bar. You will be able to pay by cash or contactless card at the bar. Tickets can be purchased online here.
The performance starts at 19:45 and runs for approximately 2 hours 30 minutes with an interval.
The auditorium will open 10 minutes before the start time.
Late arrivals will be asked to wait until a suitable break in the performance before they can be shown to their seats.