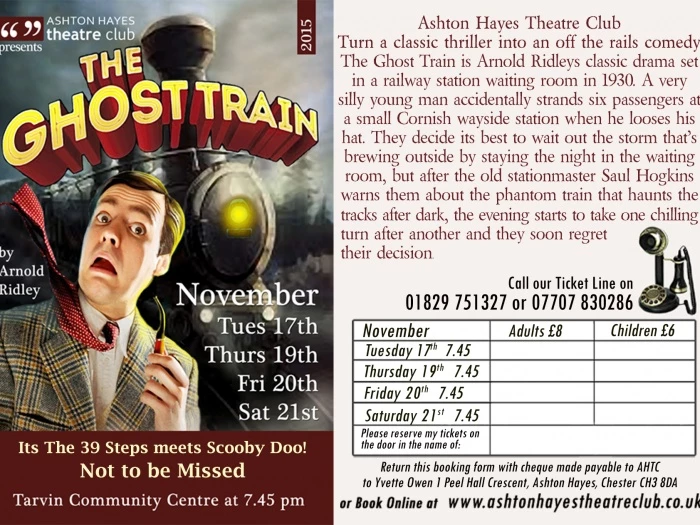 Ashton Hayes Theatre Club have been performing at Tarvin Community Centre since 2009 and have been going from strength to strength. They thrive on ambitious productions for adults and children, alway trying to come up with new ways to utilize the space in the main hall so the audience never know quite what to expect.
The same goes for the productions they put on. 'Safe' is not a word they are familiar with, they choose new plays, hard hitting plays, west end plays, and plays you've never heard of. The Ghost Train is an old play but Ashton Hayes Theatre Club are bringing it to life with an adaptation that
will hopefully surprise and delight you. They are turning a classic melodrama into an off the rails comedy.
So don't delay. Book your tickets and reserve your seat as The Ghost Train will be departing from Tarvin Community Centre in just a couple of weeks. Suitable for ages 8- 80. AHTC's last few productions have sold out very quickly so if you don't want to be left on the platform BOOK NOW!
Call 07707 830286 or book online at www.ashtonhayestheatreclub.co.uk
Ed: for more details about dates, ticket prices, and performance times, click on the accompanying photograph.