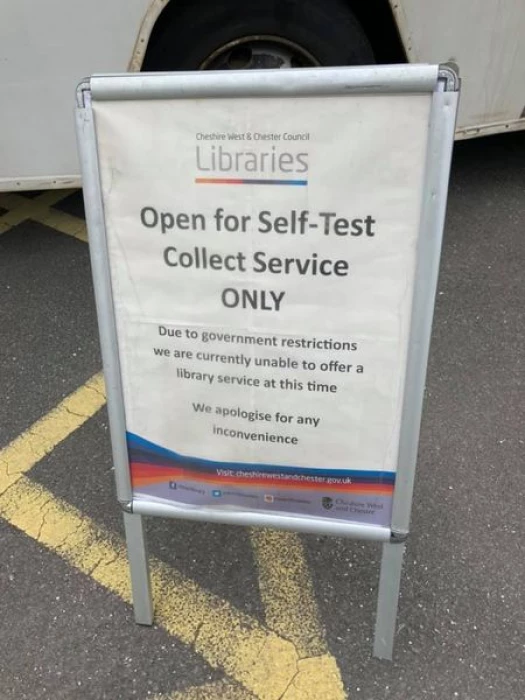 Part of the Government's plan to move from lockdown to a more normal way of life involves offering Lateral Flow Tests to people who may not be experiencing symptoms. These individuals might have the virus and be spreading it in the community without realising. Cheshire West and Chester Council are now offering theses self-administered test kits from mobile libraries and they may now be collected from the Mobile Library in the Community Centre car park on Thursdays between 2.00pm and 4.00pm.
You can request regular test kits if:
You cannot work from home but come into regular contact with others in your job
You provide unpaid help to a relative or friend who cannot manage without it
In your household or support bubble, you come into contact with nursery, primary or secondary school children or staff.
The test kit contains all the items required and comes with full instructions. The test involves swabbing the back of the throat and nose and applying chemical reagents that give results in about 30 minutes. If negative, you may go about your life as normal, though should always be following the current guidelines. If the result is positive you must apply for a confirmatory PCR test at one of the local testing centres. You and members of your household should then follow the rules for self-isolation.
Full details of how to apply a Lateral Flow Test, other testing sites and how to book a PCR test can be found on the Council website www.cheshirewestandchester.gov.uk
Vice Chair Sue Hardacre said "We are pleased to be able to play this small part in helping everyone get back to normal. We hope it is not too long before we can welcome the Mobile Library back as a book dispensing system as well. We are also looking forward to the day we can open the Library cupboards in the Edna Rose Room and get daylight back onto the books that have been patiently waiting for readers to return."