This information has been sent on behalf of Action Fraud (National Fraud Intelligence Bureau.)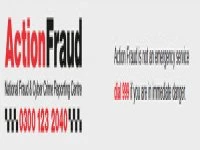 Fraudsters have created a high specification website template advertising flat screen televisions for sale which are below market value and do not exist. Payment is being requested via bank transfer and will offer no protection to the consumer when the television does not arrive.
Protect yourself:
Payments made via bank transfer are not protected should you not receive the item.
Always make payment via a credit card or PayPal where you have some avenue of recompense should you not receive your product.
Conduct some online research on the website, company name and business address to identify any poor feedback or irregularities.
Check the authenticity of websites before making any purchases.
A "whois" search on the website will identify when the website has been created, so be wary of newly formed domains.
This search can be conducted using the following website- National Fraud Intelligence Bureau because you share your information with them.