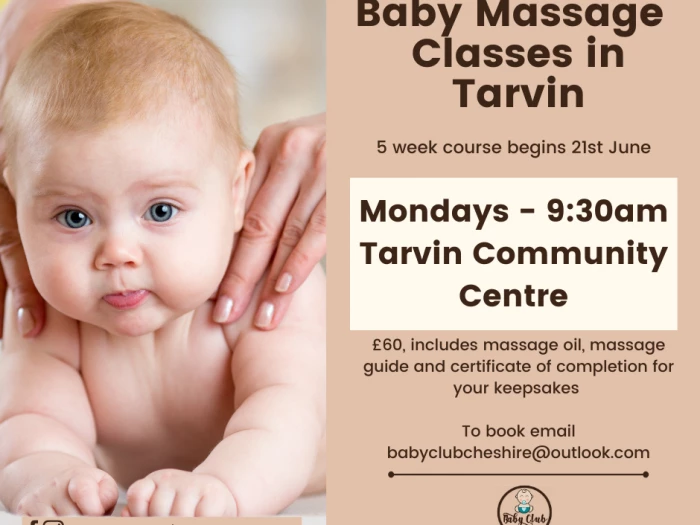 Starting on Monday 21st June at 9:30am, Baby Club Cheshire will be bringing Baby Massage to Tarvin Community Centre. Baby Massage, suitable for babies from 5 weeks old to around 6 months (or pre crawling), is a gentle way for babies to transition from the womb into the world through the sense of touch.
Parents will learn techniques to sooth and calm their babies as well as the vital strokes that have been widely reported to relieve babies of ailments such as colic, wind and constipation, and promote peaceful sleep. This is perfect way to bond with baby and communicate in a language deeper than words to help them feel loved, connected and secure.

Course leader Stephanie Tulley says "I have enjoyed Baby Massage with both my daughters and realised how much I missed such classes during lockdown. I gained accredited qualifications and am looking forward to passing on these skills to parents and carers. They have a chance to create wonderful memories of this special time in their child's life, as well as the benefits of meeting other people in a similar situation."

If you are expecting a new arrival in the next few months or have a young baby, please get in touch with Stephanie to secure your spot. This class is suitable for premature babies, twins and can be adapted for older children so please do get in touch to discuss the individual requirements of your child. Mums, Dads, Grandparents and Caregivers, everyone is welcome at the Baby Club.

Vice-Chair Sue Hardacre says "We are delighted to welcome another new class that will meet the needs of some of our youngest residents and those who care for them. These last few months have been hard on anyone caring for a small baby without the usual support of family, friends and community. I am sure that this new venture will meet a need."

The 5 week Course is £60 including massage oil, massage strokes guide and a certificate of completion for your keepsakes. To book please email babyclubcheshire@outlook.com, send a message on their website https://www.babyclubcheshire.co.uk or send a direct message on Facebook or Instagram @babyclubcheshire. £5 discount to all readers of tarvinonline.org, quoting 'TO5' when booking.