For a wonderful 12 hours on Friday 16th the Community Centre was transformed into a lively regional theatre. It took the hard work of two great teams to create the transformation, and prepare for an amazing production by West Yorkshire Playhouse of the Maxine Peake's play 'Beryl'.
The first team was that of the Committee members who created some raised theatre seating with the help of the staging used by Ashton Hayes. Some ingenuity and hard graft, not to mention an extensive tool kit and a few bits of 'two by one' ensured that all would have a good view of the stage. The Edna Rose Room was turned into dressing room, equipped not only with mirror, chairs and table, but food – especially cake!
The second team came in not one, not two, but three vans from West Yorkshire Playhouse, and the three technicians transformed the stage into the complex workshop set that included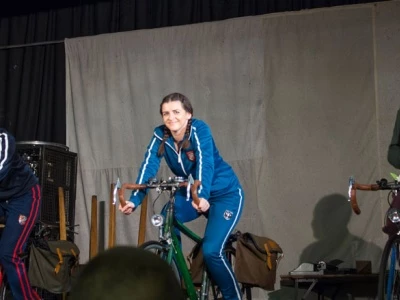 5 bicycles as well as a back-projection screen. The lighting and sound systems, all computer controlled, were absolutely spot on.
An audience of 170 people watched the story of Beryl Burton unfold, and what a story it was. Despite having a heart condition, she came to dominate British cycling, mixing incredible hard work with a fantastic natural talent. She was a national champion many years running in many cycling disciplines and won a number of World Championships, though remained relatively unknown in this country. Her husband, Charlie was her coach, technician and most loyal supporter, her daughter, Denise, followed her successfully into the sport. The stresses of such a life were illustrated beautifully, as well as the rewards. She died in 1986 of heart failure aged just 58.
Sue Hardacre said "One of the records that the play highlighted was a 12 hour time trial which Beryl won in 1967 when she beat the leading male cyclist. She covered 277.25 miles, a record which stands to this day. However, we found out that a leading British cyclist was in the audience who has very nearly beaten it.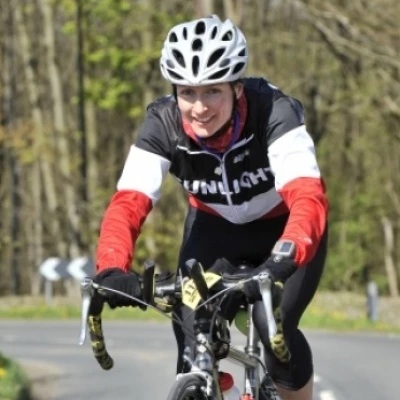 Jill Wilkinson who rides for Chester Road Club, has recently covered 256.29 miles and feels that the record may be finally broken very soon, only 48 years since it was set"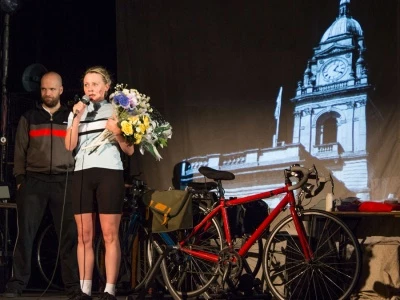 Once the applause had ended and the delighted audience had gone home the two teams sprang into action again. The Hall was stripped, the glasses washed and the chairs put away. Slowly the set was dismantled and packed away in the vans for the next performance in Bishops Castle, Shropshire.
By midnight the Tarvin Community Centre was back to normal, quietly waiting for everyday activities to start again in the morning, but with the ghostly sound of clapping still lingering in the air.