We recently received the following comments from a Tarvin resident.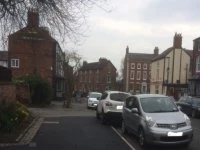 "Well it seems the upgrading of the no 82 bus stop in the village is a complete waste of money. This morning, there was no way the bus could stop at the raised kerb since cars were parked all the way along. Cars parked on the other side of the road meant the bus had to stop in the middle and block the traffic. This is not the fault of the bus driver but thoughtless car drivers who probably never use a bus".
We were promised a "pull in for the bus" instead we have a very wide pavement which could easily have been reduced to provide a pull in.
Even road markings indicating that this is a bus stop would help to solve the problem.
As a regular bus user I feel very strongly about this careless parking which causes great inconvenience to many in the village.
I would like to add that one of the drivers was a young man who then went to shop in the Co op. So much for the theory that all Co op shoppers would walk or use the car park.
(Ed. I think this sums up what many residents are thinking and I know what we have ended up with is totally at odds with the proposals discussed at the Parish Council meetings I attended)