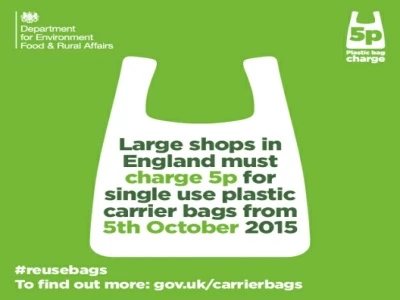 Are you aware that from the 5th October Carrier bag charges begin in England as part of the policy to reduce waste?
Here is the Tarvinonline Guide to the new law:
Which Shops/Businesses will charge for bags?
From 5th October you will be charged 5p to purchase single-use plastic carrier bags only if the shop you are buying your goods from is a "large retailer." A "large retailer" is described by the Government as having 250 or more employees.
If you're buying from a small or medium-sized business (less than 250 employees) they don't have to charge, but are free to do so voluntarily.
How much will they charge per bag?
The minimum price is 5p for most single-use plastic carrier bags. If the store or supplier is already charging 5p or more for bags they don't need to charge an extra 5p.
What bags will they charge for?
A bag is considered as such if it has an opening and isn't sealed. They should only charge for unused bags, described as "it's new and hasn't been used previously for sold goods to be taken away or delivered, its plastic, with handles, and, 70 microns thick or less
Will they charge for bags used for delivery and online sales?
Yes!. They will charge for plastic bags used for deliveries and online sales. Charges apply to both home deliveries and click-and-collect (or similar) collections N.B.They don't have to charge for sealed packaging as this isn't covered by the charge.
What bags don't they charge for?
They don't charge for plastic bags that are: for uncooked fish and fish products for uncooked meat, poultry and their products for unwrapped food for animal or human consumption – for example, chips, or food sold in containers not secure enough to prevent leakage during normal handling for unwrapped loose seeds, flowers, bulbs, corns, rhizomes (roots, stems and shoots, such as ginger) or goods contaminated by soil (such as potatoes or plants) for unwrapped blades, including axes, knives, and knife and razor blades for prescription medicine for live aquatic creatures in water woven plastic bags for goods in transport, such as at an airport or on a train, plane or ship considered as sealed packaging for mail order and click-and-collect orders (regardless of handles) returnable multiple reuse bags (bags for life) used to give away free promotional material used for a service but there's no sale of goods, such as dry cleaning or shoe repairs
Warning!: A bag can contain multiple items from this list and not incur a charge. However, if the bag contains other items then they must charge. For example, they wouldn't charge for a bag containing an unwrapped blade and unwrapped loose seeds, but adding a box of cornflakes means they'd have to charge.
What happens to the money collected?
Once they've deducted reasonable costs, it's expected that they'll donate all proceeds to good causes!
How do I get more information?
Go to the Government Website by clicking here