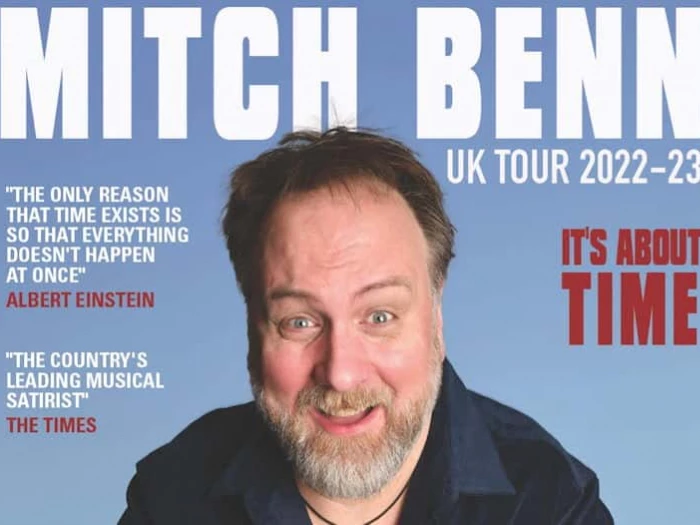 Tarvin Community Centre is Very proud to presentMitch Benn – It's About Time
Comedy Satirist andsongwriter from BBC Radio 4's "The Now Show"
Saturday 22nd April
Doors – 7.00pm
Show – 7.30pm – 9.15pm (2 x 40minutes, plus interval)
All Tickets £12.00
Tickets available at Tarvin PO (approx. 2 months prior), or online now at
https://www.ticketsource.co.uk/cheshireruraltouringarts/t-dvjgzxz
"The only reason for time is so that everything doesn't happen at once" – Albert Einstein (probably)
If it feels like the past is catching up with us and the future isn't what it used to be, then fear not! With clock in one hand and guitar in the other, this show will help you look and laugh at time in a whole new way.
Mitch Benn, comedian, songwriter and thinker of deep thought and satirist is back, clock in one hand andguitar in the other, to help you look at time in a whole new way.
He is perhaps best known as the resident comic songwriter on BBC Radio 4's The Now Show from 1999 to 2016. As a comedian, Mitch has toured extensively in the UK and internationally over the last 20 years.
Mitch's voice acting credits include Neil Gaiman's Good Omens TV series and the Sandman audiobooks. Mitch has written three Sci-Fi novels – Terra, Terra's World and Terra's War. He also writes a weekly column in The New European newspaper.
Age suitability: Adults and older children (14+ with adult)
Adult themes: Likely to be some swearing (although not excessive)