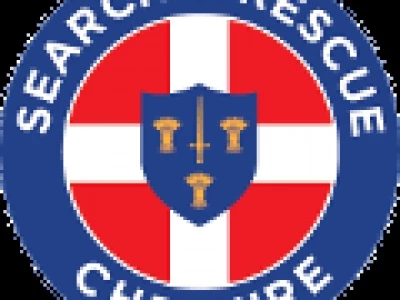 Cheshire Search and Rescue Team (CSAR) was formed following the disappearance of a teenage girl in 2004 and started as a group of community spirited individuals with little more than high visibility jackets and torches. Today they are a team of volunteers who are on call 24 hours per day, 365 days per year and are ready to deploy in any weather. The team is extremely well trained and equipped and they are frequently able to assist Cheshire police and other statutory emergency services. The group are proud members of the Association of Lowland Search and Rescue and they both train and work with local Mountain Rescue teams. They receive no government funding whatsoever and it is their proud boast that they are "Professional in all but pay".
Call-outs, when they come, are mainly to assist in the search for missing or vulnerable people across the county's 904 square miles (2.34 billion square metres) in the varied terrain of Cheshire. Most people's mental image of Cheshire is of large swathes of rural, flat land and towns and cities including Warrington and Chester. Cheshire also has large areas of moorland, dense forests (Delamere and Macclesfield) and steep ground, cliffs and quarries including Bossley Cloud, the Sandstone Trail, Frodsham, Tegg's Nose and Shining Tor (altitude 1834 feet), which means that the team need to train for more than searches in the "Cheshire Plains". Cheshire also has more miles of waterways than most other counties and their training and equipment allow them to safely and effectively search areas including the River Mersey and the Manchester Ship Canal.
CSAR are more than a search and rescue team and strongly believe in promoting an inclusive and supportive community, in promoting health and first aid and in raising awareness of the valuable work of the statutory emergency and voluntary services across the country. In fact, the greatest problem that CSAR has lies in the lack of official funding – all of the money needed to keep this valuable service going comes from fundraising.
As a part of an initiative across much of West Cheshire, Tarvin Methodist Church will be helping to raise funds for this invaluable service. We will be holding a
Coffee Morning, with bargains galore
on Saturday 26th November 2016
between 10.00am and 12.00 noon.

Do come along and give your support to this wonderful service!