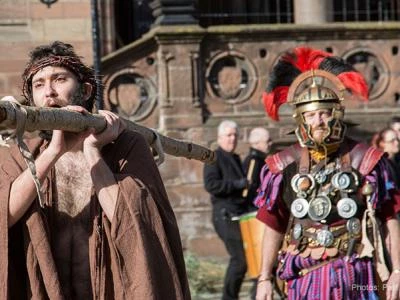 We are performing the Chester City Passion again on Good Friday the 14 April starting at the Eastgate Clock at 10.30am.
Meanwhile, we are looking for some volunteers to help us steward the event.If you'd be interested in helping out, the schedule would be as follows:
Wednesday 12 April, 6.45pm for a briefing before a rehearsal on location in the city centre (we'll advise the precise location, but it's likely that we'll meet at Northgate Church and walk into town from there).
The rehearsal will finish at about 9pm.
Friday 14 April, 8.30am at St Peter's Church (by the Cross) in the city centre for a dress rehearsal, followed by the performance at 10.30am.
Please do let me know if you're able to help out (high-vis vests will be provided!) ' if not, please do come and see the performance, it will be truly wonderful and an excellent curtain-raiser to next year's main production.
The next main production of the Chester Mystery Plays will be in June/July 2018 (see this linkfor details.