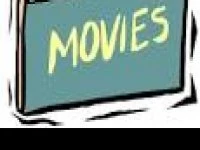 There was another enthusiastic audience last Friday evening for the two films, The Lego Movie and The Book Thief, though the numbers for the former were somewhat larger than for the latter. The Committee is delighted that the decision they took last autumn to start these shows has been so successful.
Chair Alan Wilkinson said " We had no idea of what kind of demand there would be and very nearly booked just one. Fortunately we committed ourselves to three films, so were able to build the audience after what was a slow start. We have added 'grown up' films after a number of requests and will keep these going for as long as we can cover our costs"
There has been a rapid growth in rural cinema in recent years and Tarvin is not the only village to try this. Both Kelsall and Tarporley have regular shows, and of course our own Methodist Church shows classic films on a regular basis. It does seem that watching films is still seen as a collective experience, despite the rise of DVDs and other instant and accessible ways of accessing films. Watching a film on a mobile phone may be possible but is not necessarily a great experience.
The choice of the family films is not too difficult as there is a steady production line of films from companies of the quality of Pixar and Disney. Choosing the grown up film is a bit more difficult as there is such a wealth of titles, styles and genres to choose from. Reels on Wheels, who supply the films and have gained a lot of experience in what 'sells,' has advised not to try and win over a younger, adult audience who seem to have deemed films in small halls as 'uncool', but to concentrate on the well acted, narrative films that appeal to a, how shall we say, more mature audience!
The Committee has still to decide whether to take a summer break from the films, with the lighter nights the audiences may well diminish. The Sunday Film Matinee has been suspended for a while but should be back in the autumn.
The next double bill will be on Friday May 23rd when the offerings are Rio2 and The Grand Budapest Hotel. For a look at the trailers for both of these films go to Tarvin Community websiteThe one for The Grand Budapest Hotel is very funny – yes, at last, a comedy!