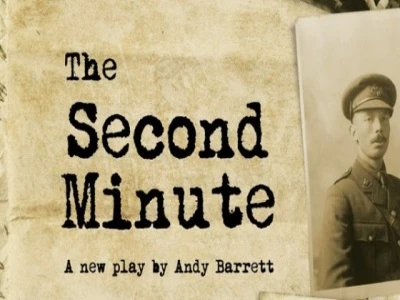 That there will be many events commemorating the First World War is hardly news. Neither is the fact that there have been some lively, indeed sometimes acrimonious, arguments about how this should be done. Even today, the causes of and reasons for this great conflict are still hotly debated – such is the nature of history and of historians..
One thing that is less controversial is the effect the war had on the lives of millions of ordinary people, both on the battlefields, and on the home front. Yesterday The National Archives and the Imperial War Museum released 4000 war diaries in digital form – these vivid stories from soldiers on the front line will now be easily available to all.
The Cheshire Rural Touring Arts show at the Community Centre on May 31st reflects this personal view of the war. The Second Minute is a play specially created for rural touring by The Nottingham Playhouse, one of the country's leading theatre companies. It is based on the words of soldiers and their families, taken from the letters kept in the archives of the Sherwood Foresters. The war years saw up to 19 thousand of bags of letters cross the Channel each day as the troops and their families tried to keep in touch under the most difficult of circumstances. While mothers and wives tried to keep the home fires burning, troops used letters to try and describe the circumstances of life in the trenches, in some cases, they tried to describe the indescribable. I am sure that the experiences of the Sherwood Foresters would be echoed in Cheshire regiments, or indeed any military archive of the time. I am sure that the play will reflect a whole range of emotions, and I am sure it will be both moving and uplifting.
I do hope that you will mark the date in your diary as one event you don't want to miss. Tickets for this performance will be £10 for adults, with a significant reduction for children under 16.
Hope to see you there.