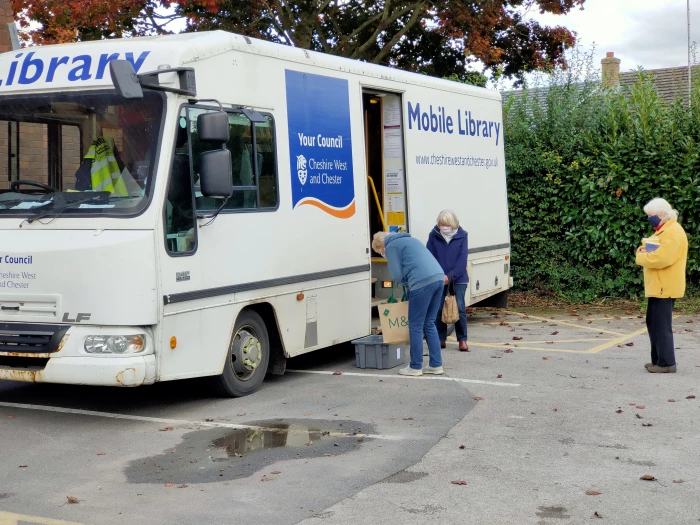 With the new Covid lockdown starting from midnight on Wednesday, another period of silence returns to the Community Centre. It is hoped that this period lasts no more than planned four weeks.
The Library has confirmed that they can no longer offer even the mobile service, so there will be no visit tomorrow and for the rest of November. This means of course, that the Library Café will also remain closed, even for delicious brownie. The Library service has apologised for the inconvenience and confirmed that any loans will be extended and items will not become overdue.
All social groups and classes have finished, along with all exercise and dance classes. There is still a possibility that one or two of the children's activities might be open under the 'early years' provision, but this is not yet confirmed. The Centre will stay open for all the Tarporley High School re-sit exams scheduled over the next three weeks.
The Centre is also available for any organisation that offers support services that can operate legally during the lockdown. Vice Chair Sue Hardacre says " The Centre is a community asset and we would be very happy to offer the facilities to any organisation who might need space, subject to the guidance being followed. Silence is not something we enjoy at the Community Centre." During this quiet time, work will continue on removing the old oil holding tank from the rear of the building and it is hoped that this space can then be turned into another usable storage space during the weeks to come.
At a recent Committee meeting the Treasurer reported that, with the grant received from CWC earlier in the year and the small amount of income received during the last few weeks, the Community Centre was able to cover it's expenses and that it's financial position remained strong. Sue says "We cannot stress enough just how fortunate we are to have had such sterling support from the community over the last few years. Thanks to their enthusiasm in the past we are able to look into the uncertain future with confidence."