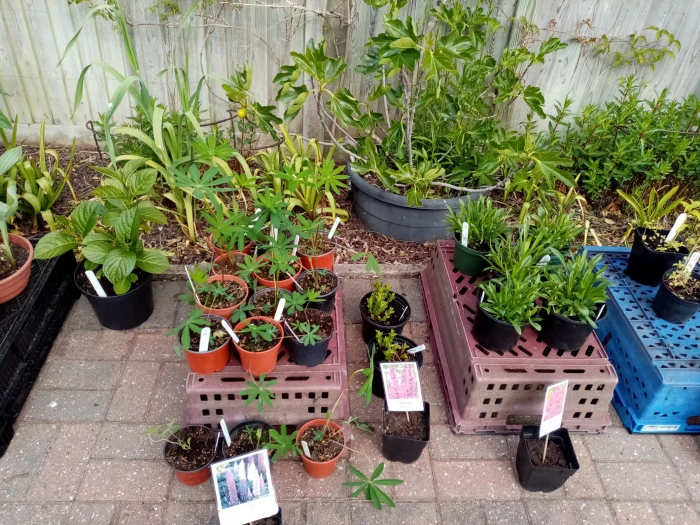 This year's Plant Sale.
When we were first in "lock-down" in Spring 2020, none of us imagined that the emergency alternative arrangements that we put together to enable things to happen would be required once again this year! While many of us have now had vaccinations, it is too early to start to "get back to normal" and so Tarvin's Plant Sale must go on in a very similar 'socially distant' way to that of last year – especially since restrictions on the use of the Chapel building will not have been relaxed at that point.
The Chapel has been exceedingly kind and helpful to Tarvin Community Woodland Trust over the years and we know that, at present, they are experiencing financial difficulties. This is why everyone involved agreed that any profit made from the plant sale (after all costs are recouped) will go to Tarvin Methodist Church. This will be one way whereby we can help them in their time of need.
The sale will begin at 10.00am on Saturday 15th May. It will be in two parts – hanging baskets, planted pots and annual flowers in one place and perennial plants, vegetables and herbs in the other.
Hanging baskets, planted pots and annual flowers.
These have been grown by Heather Exell. She will be selling from her front garden gate at Church Cottages, Church Street, CH3 8EB (third down from Loui's chip shop and second up from St Andrew's Church). There will also be a delivery service available, with some of the Trustees (and their families) organising the transportation of your purchases to your home. If you are unable to get to the sale, it is possible for you to contact Heather by phone (740337) and place an order. The delivery arrangements would then still apply.
Perennial plants, vegetables and herbs.
These plants have been grown by Jacqui Bradley. On the morning of Saturday, 15th May, from 10.00am, the plants will be set out on the driveway in front of 4, Andrew's Close, CH3 8LN and there they will remain until they are sold. Should we sell out, we will fasten a notice to that effect to the fence.
If advice is needed, Jacqui will be on-hand (but at a safe distance!) to answer any questions. (If you need our attention, it can be attracted by ringing 741172 – don't hesitate – we don't mind!) Each of the plants will have a label bearing its name and its price. Often, there will also be photographs of the plants when they are in flower. Where payments are being made by cheque, the cheques should be made payable to Tarvin Methodist Church. There will, of course, be our delivery service available. However, it would be a great help if you could bring your own boxes and bags for the plants to go in. We are desperately short of both of them!
Since the sale this year will help the Chapel, the Chapel ladies will be serving take-away tea, coffee and cake from the Bradley's patio door. Feel free to go round!
There is no getting away from it – once again, this will NOT be the event that our annual plant sales usually are. However, as a chance to obtain top-class plants at bargain prices, this is an opportunity that should not be missed. Do come along if you can!