There are many difficulties to be overcome when building a new estate and when Taylor Wimpey realised that there were Great Crested Newts on the new site they did what was required under the legislation and provided a new home for them.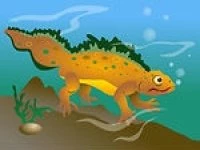 However the Parish Council was then somewhat concerned that progress on the renovation of the pond and the building of the new pavements seemed to be so slow. The whole frontage of the new site looked very scruffy and one of the main entrances to the village was not pleasant to look at.
The Council was surprised to learn that a stand-off had developed between the Highways Authority and English Nature, the government body responsible for bio-diversity. It appeared that the newts should be able to access their OLD pond as well as having two new ones. They insisted that no kerb should impede their progress, but the Highways Authority insisted that every pavement needed a defined kerb for the safety of pedestrians.
The Council would have loved to have been a fly on the wall while these negotiations took place but they are delighted to find out that a compromise has been reached and Tarvin will have a unique kerb/grass verge/pavement configuration that appears to satisfy both parties.
Taylor Wimpey have moved swiftly to implement this and the area is looking much better. The renovated pond will be an attractive feature of the site and the extended pavement will encourage new residents to walk into the village.

So all sides in the discussion are pleased with the outcome. Though what the Newts think about the solution is unknown!