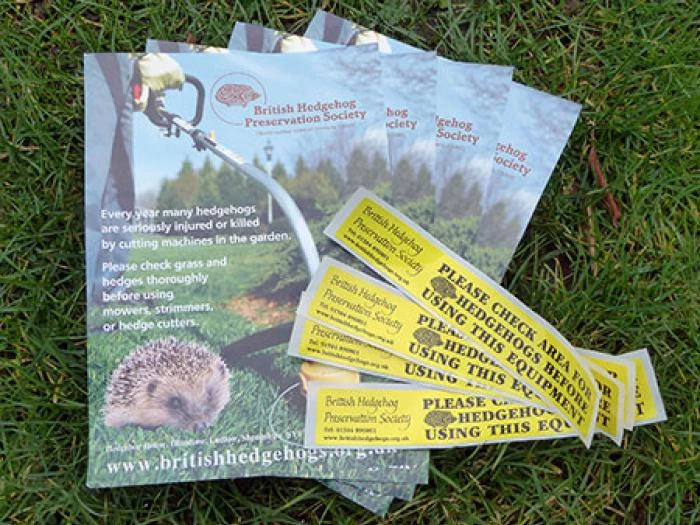 Teams in the CW&C Streetscene service have sprung into action to support a national initiative to protect hedgehogs.
As Spring approaches the teams are preparing for the start of grass cutting activities. Following several requests on social media Cheshire West and Chester Council has joined the British Hedgehog Preservation Society's 'Roll of Honour' – a list of organisations who are supporting their initiative to help prevent hedgehogs being injured when grass is cut.
The Society sent the teams warning stickers, which have now been applied to strimmers and lawn mowers to remind staff to check for hedgehogs before they start work.
The Council's Cabinet Member for Environment, Councillor Karen Shore said: "As soon as we heard about this initiative we were keen to get involved and contacted the British Hedgehog Preservation Society. Their bright yellow stickers will remind our grounds maintenance staff to check for hidden hedgehogs, before they begin grass cutting. Hedgehogs can be easily injured by strimmers and mowers, so this is a small, easy thing we can all do to protect them."
Fay Vass, Chief Executive, British Hedgehog Preservation Society said: "We have been delighted at the response to this campaign and thank Cheshire West and Chester Council for getting involved. We hope that it will save many hedgehogs and would encourage gardeners and landlords to help further by ensuring that there is easy access in and out of gardens too – a 13cm by 13cm hole at the bottom of boundary fences and walls creates a hedgehog highway that will help hedgehogs get around your neighbourhood."
The British Hedgehog Society's strimmer campaign is the focus of this year's Hedgehog Awareness Week, which runs from 30 April to 6 May 2017. To find out more about the week, and how you can get involved in protecting hedgehogs, visit the British Hedgehog Society's website.
Ed: Evidence from several surveys was sufficient for hedgehogs to be made a priority conservation species in Britain in 2007.