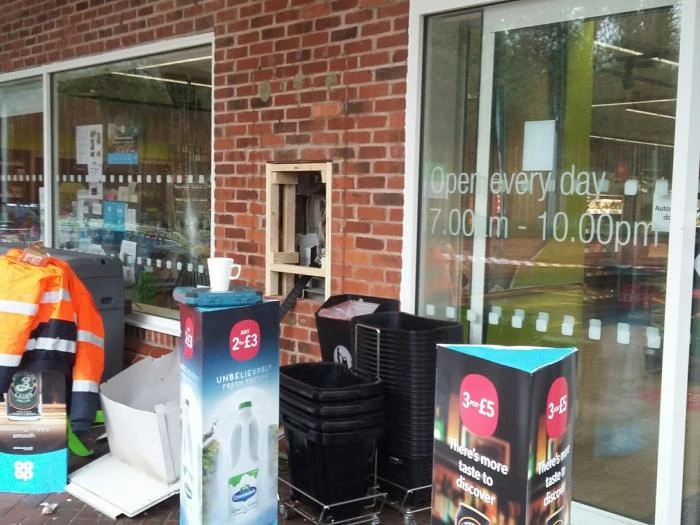 At about 4.30 am on Monday morning robbers broke into the Tarvin Co-op and used an explosive device on the hole in the wall cash machine and caused internal damage to the shop. Tarvinonline was alerted to this event by posts on local social media.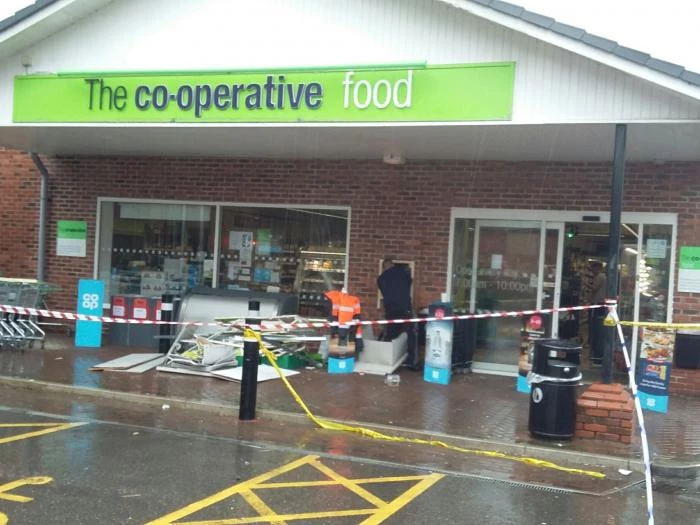 In one of the photographs you can just see where the robbers have failed, using a sledge hammer, to break the right-hand side on the large window, before finally gaining entrance to the store by forcing the sliding door. It is understood that ultimately the robbers failed in their attempt to get the money from the cash machine.
By the afternoon the cordon remained as repairmen worked on what was now literally the hole in the wall, before competing the collateral damage inside work, to make the store safe for staff and customers. A steady stream of disappointed customers continued to roll up during the rest of the day, only find the store off-limits, but a member of staff gave the assurance that the store would be open again at the usual time of 7.00 am on Tuesday morning.
Ed: It was 11th May 2015 when we last reported an armed robbery at the Tarvin Co-op. Thankfully on this occasion at least there was no members of staff or customers involved in the incident.