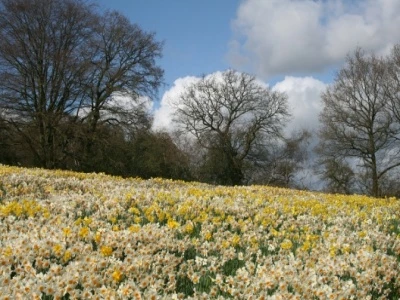 It may be cool out at the moment but Spring will soon be here, and what better way to enjoy it than to take a Daffodil Walk right on our doorstep!
"If you love daffodils, beautiful countryside, and a lovely day out, then come along for a guided daffodil walk near the village of Whitegate, in the heart of the Vale Royal, Cheshire"
Guided by Len Tomlinson, you'll find out about daffodil growing, propagating, competitions, local history of the area and farming, and see many varieties of daffodils that have been cultivated for over a century. "I'll be doing guided walks and talks from Monday 23rd March through to Sunday 5th April this year, in the morning for all, and the afternoon for pre-booked groups!
Daffodil walks are made during the height of the growing season – March and April, but every year is different as are the varieties that you'll see!
Full details including the cost (£5) inc Tea, Coffee and Cakes! are available on their website here
Ed:"This is a great day out and the flowers are incredible as our picture from 2014 shows!"