The Etape Mercia Cycle Fun Ride arrives in the Tarvin area on the 18th August and the organisers have been busy erecting road closure signs for the roads affected.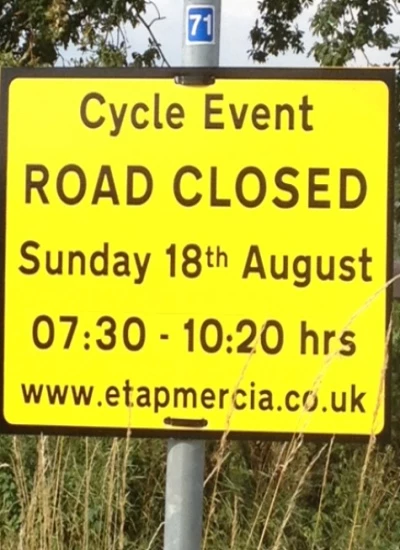 Tarvin Webteam understands that there have been a number of concerns regarding the closure of the roads, and, the lack of advanced publicity from Cheshire West and Chester Council.
Cllr Hugo Deynem (Tarvin and Kelsall ward) has prepared the following statement which hopefully answers many of the questions that have been raised to date.
"The nature of the closure is that it is phased across the route to keep any restrictions and inconvenience to a minimum. This has been communicated to residents in March and July through the Talking West Cheshire magazine which goes to all households. In addition farms and businesses directly on the route and parish and town Councils have also been contacted regarding the event.
Emergency vehicles will still have access to all sections of the route. In addition we have also made provision for emergency vet call outs. Where a vet is on an emergency call, they will meet a marshal as they enter the route. This will be communicated to event control and they will be escorted into the property as required. This is for emergencies only.
In relation to residents accessing their homes.
Access by foot is possible at all times. Cars will not be allowed to move on a closed road during a closure but in many places we will allow the car to remain parked on the side of the road, but they can't move. Quarry Lane and some other roads do have parking suspended prior to the closure which means cars in this situation cannot be parked on the road.
If residents wish to use their vehicles during the closure, the recommendation is that they relocate their cars to a road not affected so that they can carry out their journey. Or to plan their journey outside of the times of the closure in that area. Driving on a road that is closed would be an offence under the Road Traffic Regulation Act.
There is a web site that gives further detail of the exit routes from communities and further details of the route. We have asked that residents take time to look at these details to plan their journeys.
www.talkingwestCheshire.org/ETAPE
While I appreciate and understand the frustration that this may cause it has been limited, as best as is practically possible, in relation to inconvenience to residents and does support a very worthwhile and deserving cause. If I can be of any further help or can answer any other questions please feel free to contact me."