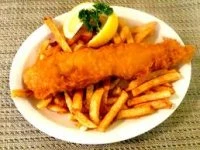 Good news! We have just heard from Paul at King Loui's Takeaway that they have recently re-opened.

As can be imagined re-opening has been a very busy and demanding process but the end result is that King Loui's is now open Tuesday-Saturday from 4.30 pm-8.30 pm.

Paul has set up an ordering system either at www.kingloui.com http://www.kingloui.com/ or by phoning 01829 741273 where customers are able to order and pay ahead or pay with cash/card on collection. The aim is that orders will be ready for the customer to collect at the allocated time. There is also a 'kerb side' collection for customers who don't want to leave their vehicle but remember to let Paul know your requirements when you phone through your order or complete the instruction box when ordering online at the checkout page. For this service it will be necessary to pull-up in front of the shop when collecting your order.

There will still be the usual 'walk-in' system but at a busy time there may be a delay in getting served.