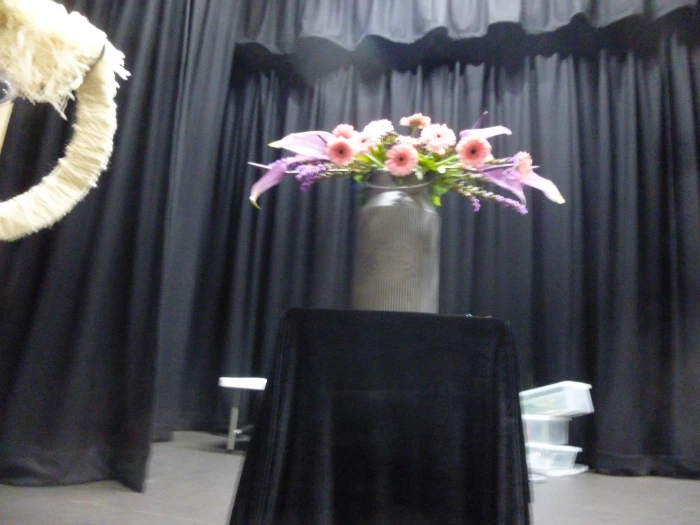 We met again on the 2nd Wednesday of the month. There never seem to be many attending but that is because we are meeting in the main hall for safety reasons. Merryn had made her Simnel cakes for those who ordered them and she had some spares to sell as well as packs of her delicious shortbread. There were also daffodil plants and some small door wreaths.
Our demonstrator was Heather Hayes from the Bolton area who informed us that her last visit was in March 2020 just as lockdown started. Once again she kept us very amused with her chat about all sorts of topics. She tells her stories with typical Lancashire humour which kept us all smiling.
"Pot Luck" was Heather's subject and it referred to her flower containers. The 6 designs were all very different and contained beautiful flowers.
The designs were all of a reasonable size for normal homes so I am sure the 8 lucky raffle winners were very pleased. She was quite seasonal with a Spring basket of daffodils, purple tulips and ranunculus all in a raffia fruit punnet and using no floral foam. Flower arrangers are all trying to reduce its use. This is difficult for demonstrators as they often place a plastic dish within their own container so they can easily give it in the raffle without harming the design. Most of her designs last evening however where complete with the arrangement. The 2nd very seasonal design had a wooden cross of twigs set firmly into a white pottery dish and white roses and lilies were used. On the whole she didn't mix colours within the designs, apart from the Spring basket containing 3 colours, The Easter design was all white whilst the orchids became part of an all pink arrangement.
She wowed us from the start with lovely pink cymbidium orchids and in a later design she had mauve anthuriums which were very striking.
I am sorry to say that either my camera or myself failed to work well. Only one photograph was any use, some failed to take at all and others looked as if I had been running for a bus. I have been unable to find anyone else who took photos. I must have a back up next time. The one I managed to photograph was in purple, pink and mauve shades. Her final design arranged in a picture frame had red roses and carnations.
The next flower club meeting is on 11th May when Jean Hopkins will join us with her own grown flowers. The start time is 7-30pm and once again we will be in the hall of the Community Centre. Visitors are always made welcome.