Friday Film Night at the Community Centre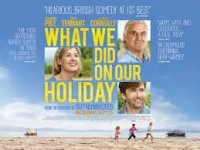 On Friday, 28th November, our next Adult film is "What we did on our Holiday" staring Rosamund Pike, David Tennant, and Billy Connolly.
Doug and Abi are taking their three children on a trip to Scotland for a big family gathering. They are in the midst of a difficult divorce, and have asked the kids to keep it a secret from their extended family. But as the inevitable feuds kick in, a completely unexpected turn of events involving the children causes further tensions to rise to the surface. And with the repercussions that ensue – hilarious and emotional in equal measure – the family are forced to put aside their differences and work together or else risk losing what they hold most dear.
Engaging family comedy sees the creators of "Outnumbered" repeating the BBC sitcom's winning mix of beleaguered parents, cute scene-stealing kids and spot-on observational humour with audience-pleasing results.
Please note that because there is no Family Film on the 28th November, the doors will open at 1900 hours and the film will start at 1930 hours.