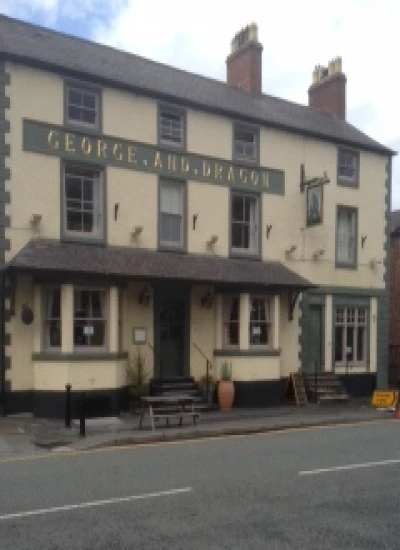 In recent times it has seemed like "another month another tenant" at the George and Dragon! The latest tenants, Lyn and Rob, however, are promising that this time is going to be different.
Both Lyn and Rob have been involved in the pub trade for over 25 years. In Lyn's case she started out as a Greenall's trouble shooter which involved going anywhere in the country to sort out under performing brewery pubs. Since those days, Lyn has not only owned a few public houses, but has also been involved in property and restaurant businesses, before eventually moving Spain and running not only holiday rentals but also a restaurant, bar, and catering company in Moraira, near Benidorm. Ron mean while, having worked for three years as a barman and qualified as a chef, then spent the next 22 year in engineering in the local aerospace industry.
Their paths did not cross until 5 years ago when Rob was visiting his sister in Spain and "I met Lyn in Moraira. Time for a change and with his experience behind the bar and a qualified chef, Rob was soon working in Lyn's restaurant. Ultimately, however, family reasons brought Lyn and Rob back to the UK.
Since their return Lyn has been working for property investment business and Rob went back into engineering. But now with their batteries recharged they were ready for a new challenge and the George and Dragon will certainly provide that. To successfully run a pub and restaurant like the George and Dragon Lyn said "it has to become your own social life" and they are determined to recreate a community pub. In this respect they have fortunately retained all the existing staff and now they want to hear suggestions from local residents as to what events they would like to see in a community pub.
They have already started Friday night music and Lyn is considering the possibility of a parents and children quiz for a Sunday afternoon. So to be part of this revival, why not drop in for a drink and make your views known.