Just as the Cuckoo is the first sign of Spring, and Swallows the onset of summer, the appearance of BT working on a cabinet is a sign that Superfast Broadband is on its way!!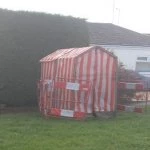 This week a BT engineer has been busy working on one of their cabinets on the corner of Crossfields and Hockenhull Lane. You cannot miss him as he has a wonderful all-weather tent as this picture shows.
What he is doing is moving the various line connections within the cabinet from one area to another to create space for the fibre optic link that carries the Superfast Broadband. When installed, the fibre optic cables will exit from the BT exchange on Hockenhull Road, and, using air pressure, will be blown down tubes to arrive at another cabinet which will be installed next to the existing cabinet (s). Transfer of data down the fire optic cables will create considerable heat (as opposed to copper cables) hence why you need a new cabinet with an inbuilt cooling system which the existing cabinets do not need.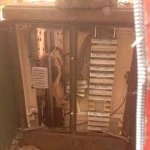 A cabinet on Bye Pass Road has also been upgraded, any others in the area should be completed soon too.
The dates for completion of the Superfast Broadband installation in Tarvin are due to be announced at the Connecting Cheshire Deployment Announcement & Briefing on Friday 6th December 2013, Tarvin Webteam will be there to bring you the news as it happens.