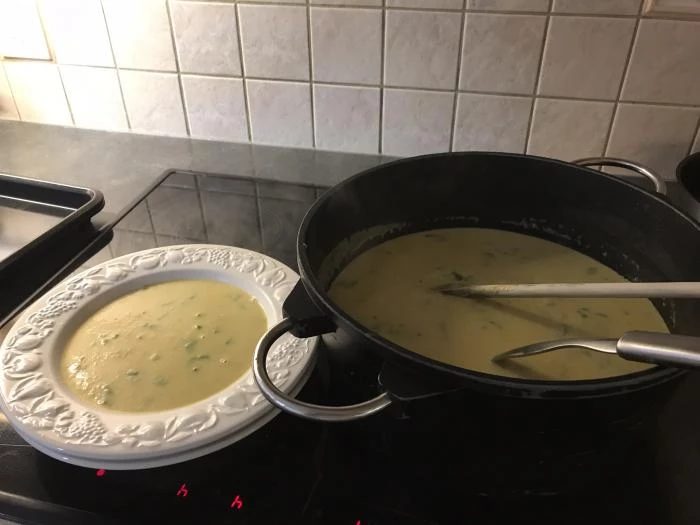 If, like me, you have carved pumpkins with the kids for many years and never really thought you couldn't rescue anything tasty from the remnants of flesh....then you too might be on the brink of a foodie epiphany!
Sunday morning...in preparation for my grandson visiting this week I decided to carve a pumpkin. Before I started, I decided to consult with Mary (Berry). In our house this woman is an absolute legend....her, by now well battered ,recipe book has never let us down yet (in spite of my best cookery attempts at sabotaging Mary's reputation !)
The search was fruitful...page 34 of the book "Pumpkin Soup"
I set about it, and this is how it goes!
Ingredients:
2 leeks trimmed and sliced
5 oz butter
3lb pumpkin flesh (the recipe says in 2 inch cubes and no pulp....I did ignore that instruction a little bit)
1 litre of chicken stock...(I used 3 chicken oxos and 3 vegetable oxos)
Salt and pepper
1/4 teaspoon cinnamon
1 oz petit pois
Packet of baby spinach leaves finely chopped
300ml single cream
Method:
Place the sliced leeks in a large casserole style pan (with lid) with 3 1/2 oz of the butter. Place over a medium heat for approximately 10 minutes until the leeks have softened.
Add the pumpkin flesh, seasoning and cinnamon and give the mix a good stir. Add the stock and bring to the boil. When the liquid is boiling reduce the heat and cover for approximately 30 minutes until the pumpkin is all softened.
Blitz the Soup with a stick blender. Meanwhile cook the petit pois in boiling water for a couple of minutes, and separately put the remaining butter and spinach leaves into a pan and heat and stir until the butter is melted and coats the leaves (a couple of minutes).
Drain the peas and add to the now puréed Soup, and add the spinach and butter mix.
Finally add the cream and bring back to the heat until it has reached the desired temperature. Absolutely scrumptious....and you don't need to be Mary Berry to pull it off! It got a thumbs up all around my dining table, and will definitely be made again (and next time we won't be carving a pumpkin first....we'll just make the soup...no other reason needed!