Heritage Open Days
Four days to explore more of England's beautiful architecture and the chance to uncover every nook and cranny all over the country.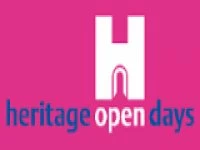 This September more than 4000 buildings that are usually closed or charge for admission will open their doors to you for free during Heritage Open Days.
From castles, and medieval cottages, to battlefield walks and Buddhist temples, the variety is endless!
The event was first established in 1994 as part of European Heritage Days, and around 50 countries now participate. And it's not only England that opens up its doors for free. Doors Open Days in Scotland, Open Doors Days in Wales and European Heritage Days in Northern Ireland will all be happening in September.
Heritage Open Days
Last year's range of tours and activities were a huge success, attracting nearly one million visitors. This year expects and welcomes just as many, if not more people of all ages and abilities.
The 18th Century Gothic Temple in Stowe, Buckinghamshire, an ironstone circular vault that overlooks stunning gardens, will be open to the public. Previously the state-of-the-art Aardman Animation studio, home to the creators of Wallace and Gromit, has also been open for business.
Other locations include England's Northern Victorian theatres and the Chester racecourse dating back to the 16th century. See, there's something for everyone!
For more information visit the Heritage Open Days website