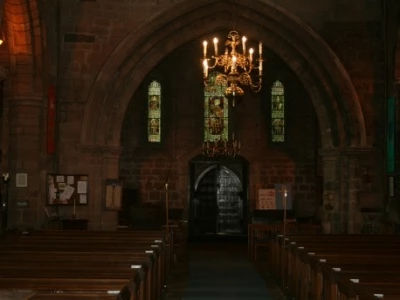 TARVIN LOCAL HISTORY GROUP – VISIT TO ST MARY'S, ACTON.
Fifteen members and friends of the Tarvin Local History Group recently spent an interesting afternoon at St Mary's Church, Acton, near Nantwich, and were given an informative tour of the church and churchyard by one of the churchwardens.
St Mary's, Acton, is one of England's thousand best churches and has been a place of worship for almost 1000 years. The present church is the result of centuries of change and is a beautiful and dramatic grade I listed building. The oldest part of the church is the tower which could be as much as 900 years old. It is possibly one of the oldest in Cheshire and was once one of the most dominant towers in the county. The font, which is Norman, was discovered in 1820 being used as a pig trough on a local farm. From there it went to the gardens of nearby Dorfold Halluntil in 1897 it was returned to its rightful place in the church. For those interested in stained glass, St Mary's has four windows designed by Kempe.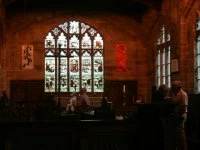 The boundary wall to the churchyard is grade 2 listed. Within the boundary wall there used to stand Acton grammar school, which was founded in 1662 by public subscription. The school was built to provide education for 80 children. It was demolished in 1885. Also within the boundary wall are the alms houses established in 1613 and these two tenements were occupied until the 1930s. It is probably the oldest brick building remaining in south Cheshire.
There is just so much history at St Mary's that it is well worth stopping to visit the churchyard even if the church is not open