Various articles and sources have considered the history of the bridges without challenging some of the core assumptions. This, the first in a series of narratives, seeking to extend the current history of the bridges by re-evaluating what has been accepted as fact.

The Roman Bridges

A widely held misconception, by locals and visitors alike, is the bridges are, or at least were, Roman bridges. Yet, there is no historical basis for such a claim. The Cheshire Historic Environment Record, the catalogue for such evidence, does not support Roman bridges at Hockenhull Platts.
According to one source, 'probable' Roman timbers were unearthed during work to raise the foundations of the central bridge in the 1940's. There is no public record for this claim. Even carbon-dating would struggle to fix the age of such timbers as Roman.
Apparently, no Roman bridges remained at Domesday. The only bridges in the 11th century, were at Chester and Bridge Trafford, and were built of timber. For centuries fords were the way to cross rivers as at Hockenhull until a plank bridge raised on timber supports crossed the R.Gowy.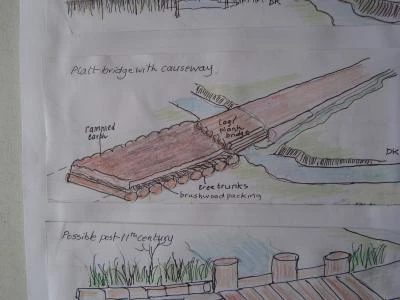 A few Roman coins and other minor finds, mainly discovered by detectorists have been found. Such stray finds are not enough to support Romans regularly using the Platts. Without archaeological work there is little chance of adding to our knowledge.
The nearest confirmed Roman presence are three 'marching' camps discovered at Stamford Heath, not far from both Christleton and Tarvin, close to the Roman Watling Street (A54) road linking Chester to Manchester. Recently, the remains of a possible Roman farm building found in Tarvin might suggest a villa existed there. The only certain villa residence in Cheshire is at Eaton.
Until further evidence comes to light the case for the Roman bridges is not proven. More likely there was a Saxon bridge or, as I will consider later, a Norman, and later medieval bridges, crossed Hockenhull Platts.
Comments, if you wish: dbkeogh@hotmail.com