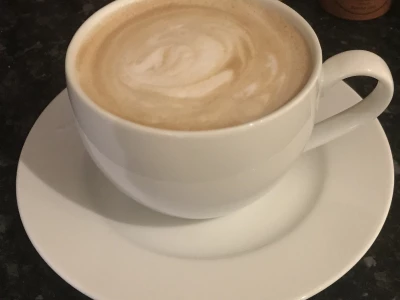 Have you missed going out to your favourite café for a lovely latte, mocha coffee or a cappuccino?
A nice pick-me-up in the afternoon, or simply a delicious way to have coffee, whichever way you like to have it. if you have some fairly common kitchen equipment, you can become a barista in your own home... without the expensive Italian steam machine.
How to make a delicious frothy cappuccino or latte at home:
Make a strong, short coffee. (I use 2 spoons of good quality, free trade coffee and about 50-100ml of water which has just come off the boil. You can even use instant coffee granules. (I can hear the shouts of "heathen" or "sacrelidge!" from here!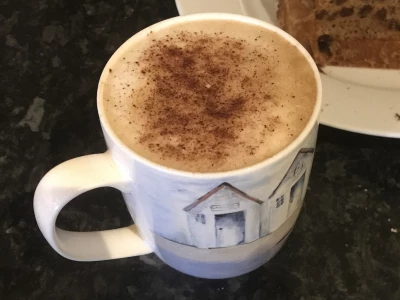 If you are making mocha, add a spoonful of hot chocolate powder to the short coffee.
Heat about 250ml of your preferred milk (pan or microwave) until piping hot,
Pop the milk in a blender. I use a Nutri-bullet or a wand blender.
Whisk the milk with the blender for 10-15 seconds.
Bang the jug you have whisked the milk in on the kitchen top a few times – there is science in this... it brings more froth to the top.
Pour the hot, frothy milk into the coffee cup and spoon or shake the froth on. Shake hot chocolate powder over the froth if you like (I have a sugar shaker with hot chocolate powder in it) You can sprinkle it on through a tea strainer if you don't have a shaker. ...Now you're a barista!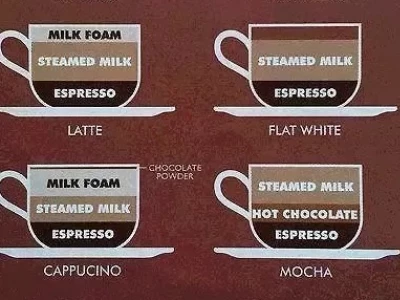 What's the difference between a Latte and a Cappuccino? Well, if you can make enough froth, you can make a cappuccino, which is a little stronger as it's approximately 1/3 espresso coffee, 1/3 Hot milk and 1/3 Froth whereas, a latte has more hot milk and less froth as youc an see from this handy guide.
Note that if you use oat, soya or skimmed Milk, there is likely to be less froth. You can get barista soya and oat milk which normally has a little vegetable or seed oil added to make it froth well.